The only cherry pie recipe you'll ever need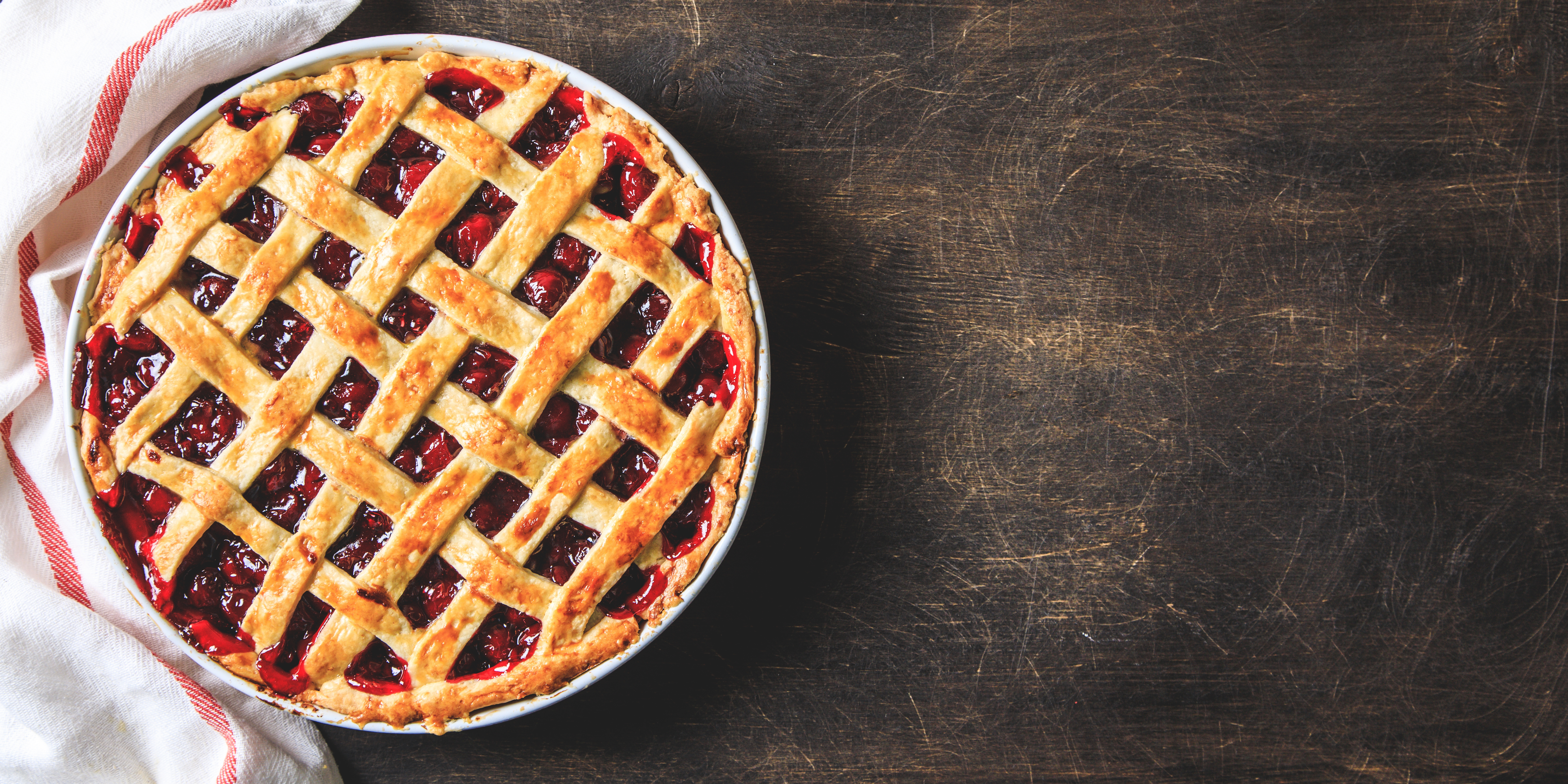 Cherry Hill Programs powers photo experiences across North America for millions every year and is named after the town where the company is headquartered, Cherry Hill, NJ. The town is named so because of a farm that was located there in the 1800s with cherry trees growing on the property. There's no doubt that those cherries have produced hundreds of homemade pies over the years, so naturally, we had to share one of our favorite cherry recipes!
There are over 1,000 types of cherries! Did you know you can even eat cherry blossoms? Cherry blossoms are particularly popular additions to recipes in Japan, where they're known as sakura.
Cherry fruits are categorized as either sour (tart) or sweet. When it comes to cooking with cherries, you generally want to use sour cherries, since sweet cherries are better enjoyed fresh. Sour cherries are wonderful additions to cobblers, cakes, tarts, and of course – pie!
To make a cherry pie you'll need crust and filling. If you want to save time, you can use a pre-made crust or filling, or even both. Cherry pie filling is commonly available in most grocery stories, and can work in a pinch, or when you have a craving for cherry pie and cherries aren't in season. If you're using pre-made crust and filling, just follow the instructions that come with the products you're using.
Pie crust
Making homemade pie crust is a lot easier than you think – and you only need four ingredients! All it takes to have delicious, flaky pie crust is flour, butter, salt, and ice-cold water. The real trick is to make sure your butter and water are as cold as possible. We suggest freezing your butter first. The recipe below makes two 9-inch pie crusts, one for the bottom layer and one for the top.
Ingredients
2 ½ cups all-purpose flour
½ teaspoon salt
20 tablespoons cold unsalted butter (or 2 ½ sticks)
4 to 8 tablespoons ice-cold water, as needed
Instructions
1. Add flour and salt to a medium to large size bowl and mix.

2. Grate cold butter using a cheese grater directly into flour, or cut up into small cubes and add to flour.
3. Using your fingers, incorporate butter into flour until the mixture forms pea-sized crumbles.
4. Chill mixture in the freezer or refrigerator since mixing will heat your ingredients slightly.


5. Once the mixture is cold, add ice-cold water a tablespoon at a time until it forms a shaggy dough. The mixture does not need to be entirely the same consistency since rolling your crusts will mix it a bit more.


6. Divide your dough mixture in half, then form two small discs.


7. Cover your discs with plastic wrap, and chill in the refrigerator until ready to use.


Cherry pie filling
Making your own cherry pie filling is so simple and so tasty. The trickiest part is removing the pits! If you love cherries – either to eat by themselves or to add to your favorite recipes – we recommend getting a cherry pitter. These handheld tools look and operate much like a garlic press, only they press out the pits of your cherries. If you don't have a cherry pitter, you can remove them using a chopstick or piping tip. If you can't find good, fresh cherries, you can also use frozen cherries. You can make your filling as sweet as you'd like, so adjust the amount of sugar based upon your preferences and how sweet the cherries you're using are.
Ingredients
5 cups cherries with pits removed, cut into halves
2/3 cup sugar
1 tablespoon lemon juice
½ cup water
¼ cup cornstarch
1 teaspoon almond or vanilla extract
Instructions
1. Add cherries, sugar, and lemon juice to a sauce pan over medium heat.

2. In a small dish, add cornstarch to water and stir until you've removed any lumps.

3. Add the cornstarch slurry to a sauce pan, and raise heat so the mixture comes to a boil.

4. After the mixture comes to a boil, reduce heat to a simmer and cook for about 10 minutes.

5. Remove from heat and add almond or vanilla extract, stirring to incorporate


Assemble and bake
Now that you've made your pie crusts and pie filling, it's time to assemble and bake!
Ingredients
2, 9-inch pie crusts, homemade or store bought
cherry pie filling, homemade or canned
1 tbs of butter
1 egg
1 tablespoon milk
Instructions
1. Pre-heat oven to 400°F and adjust your racks so that you can bake in the middle of your oven.

2. Roll out your first pie crust on a slightly floured surface so that it is approximately 12 inches in diameter and place in the bottom of a 9-inch pie pan.

3. Add room-temperature cherry filling inside the pie shell. If you just finished making fresh pie filling, be sure to let it cool before adding it to your shell, otherwise you'll start cooking the crust!
4. Cut 1 tbs butter into small pieces and place them on top of your cherry pie filling

5. Roll out your second pie crust so that it is approximately 10 inches in diameter and place it on top of your cherry filling. You can get as fancy as you'd like with lattice work or other designs. But you can also place the rolled-out pie shell on top and simply cut a few slits in the center so that steam can escape. However you add your top crust, make sure to seal it to the bottom crust by pinching all around the edges.

6. Beat 1 egg with 1 tablespoon of milk and brush on your top crust – this will give it a nice, golden color.

7. Place your pie in the oven and bake at 400°F for 20 minutes.

8. After 20 minutes remove your pie from the oven and cover the edges of your pie with foil or use a pre-made pie shield to keep the edges from burning or becoming too brown.

9. Reduce the oven temperature to 375°F and bake your pie for an additional 30-40 minutes.

10. Once the crusts of your pie are golden brown, remove from the oven and allow the pie to cool for several hours before serving. If your pie isn't cool, your filling will be runny and will make it difficult to cut and serve.
Like this recipe? Subscribe for more tasty recipes, as well as tips and tricks to add magic to every day of the year.