19 Ways to Have Fun in the Sun with Your Family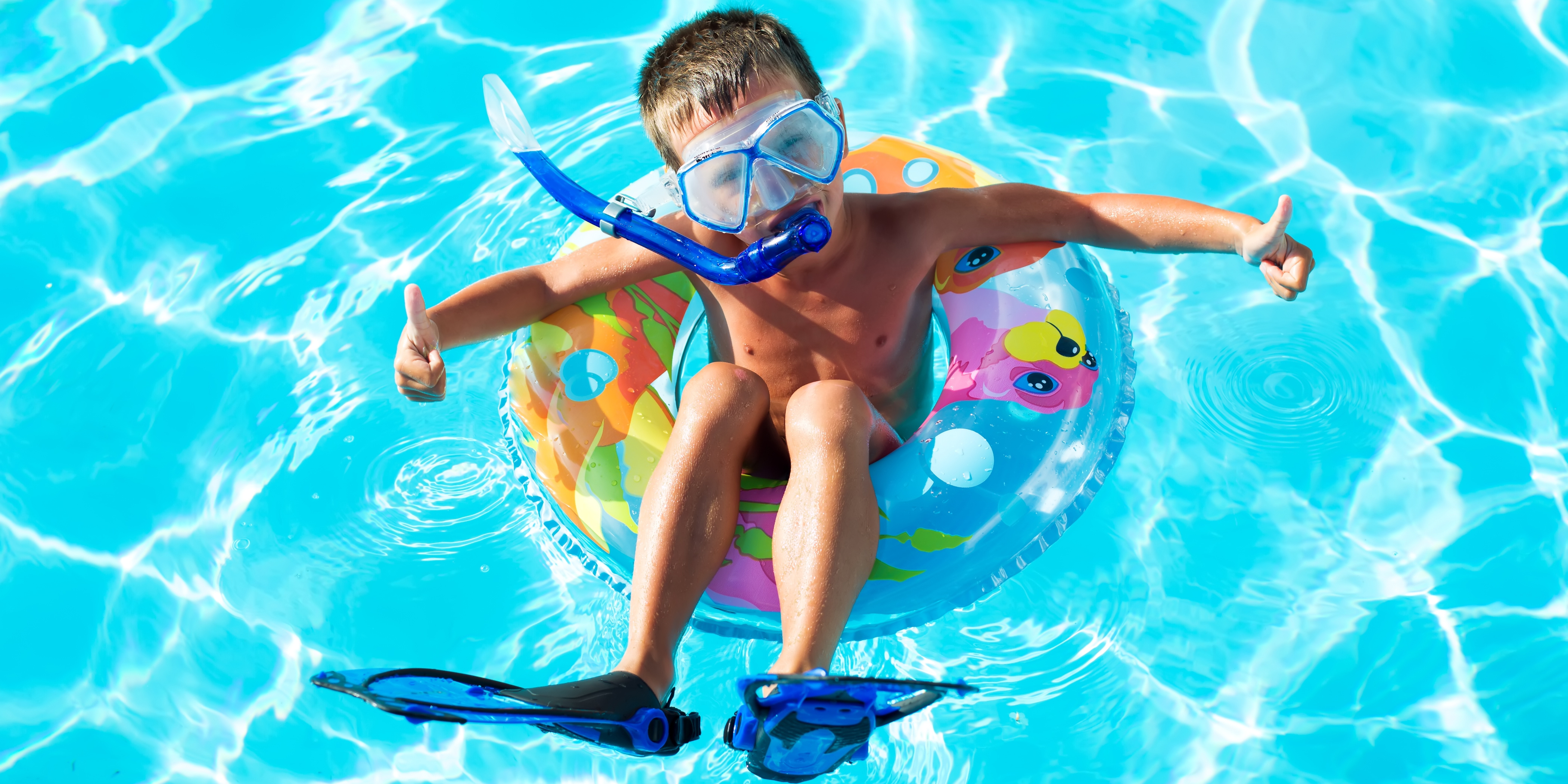 These days, we all seem to be spending more and more time indoors. As we find ourselves in front of screens constantly, it's tempting to stay inside during our free time. But it's also important to disconnect and have fun outside to stimulate our minds and our bodies. And for our little ones, it's also essential to get them outside to burn off energy! Check out this list of the best outdoor activities for the family. Whether in the back yard or beyond, there are tons of ways to have fun in the sun.
1. Play ball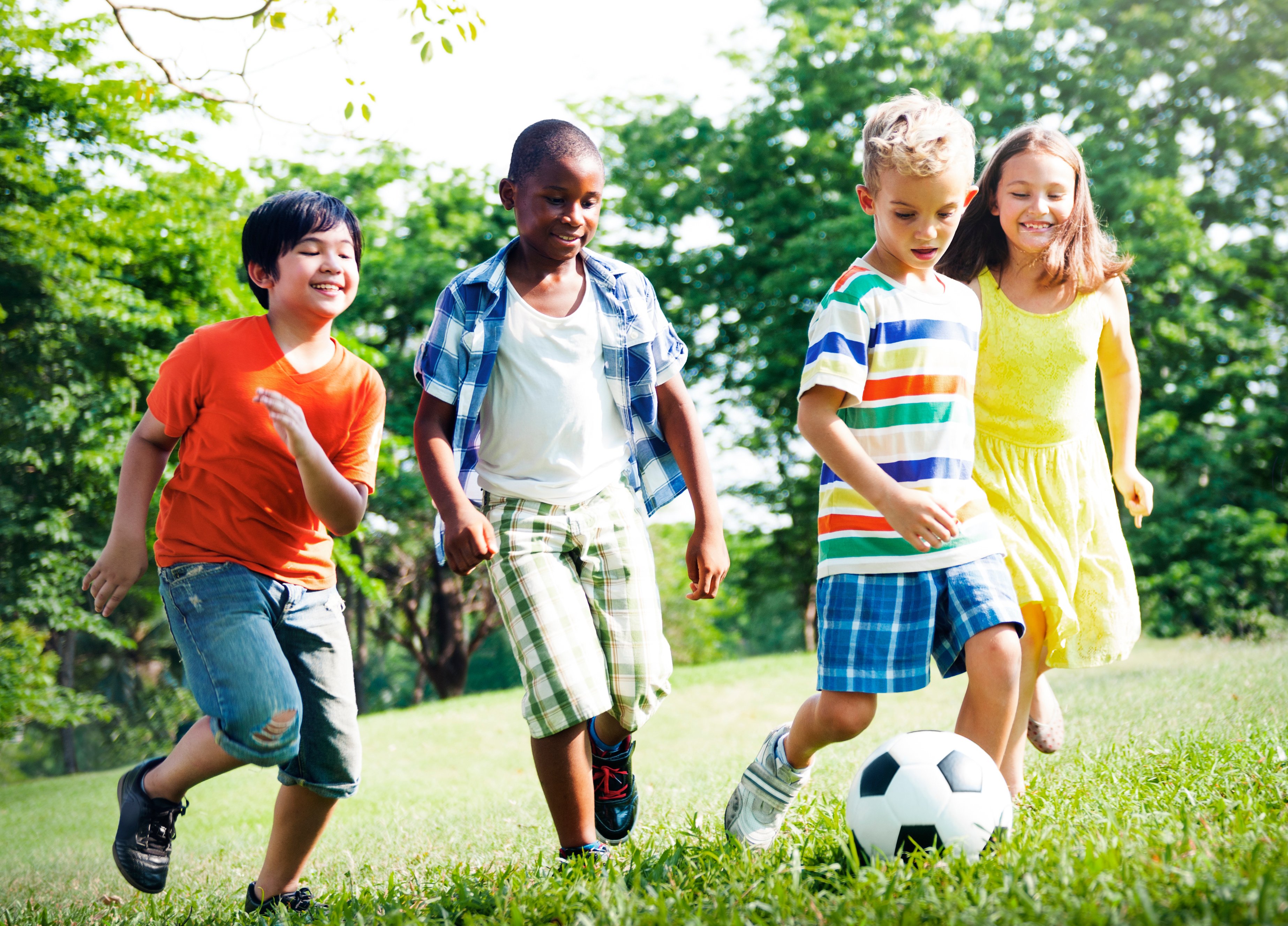 There are countless ways to have fun playing ball with your family, with games suitable for kids of all ages and abilities. You don't have to have aspirations of going pro to enjoy kicking around a soccer ball, shooting hoops, playing America's pastime, or one of hundreds of other sports. You also don't necessarily need a lot of space to play ball either. Even if you only have a patch of sidewalk to work with, you can play a few rounds of two square or four square.
2. Ride a bike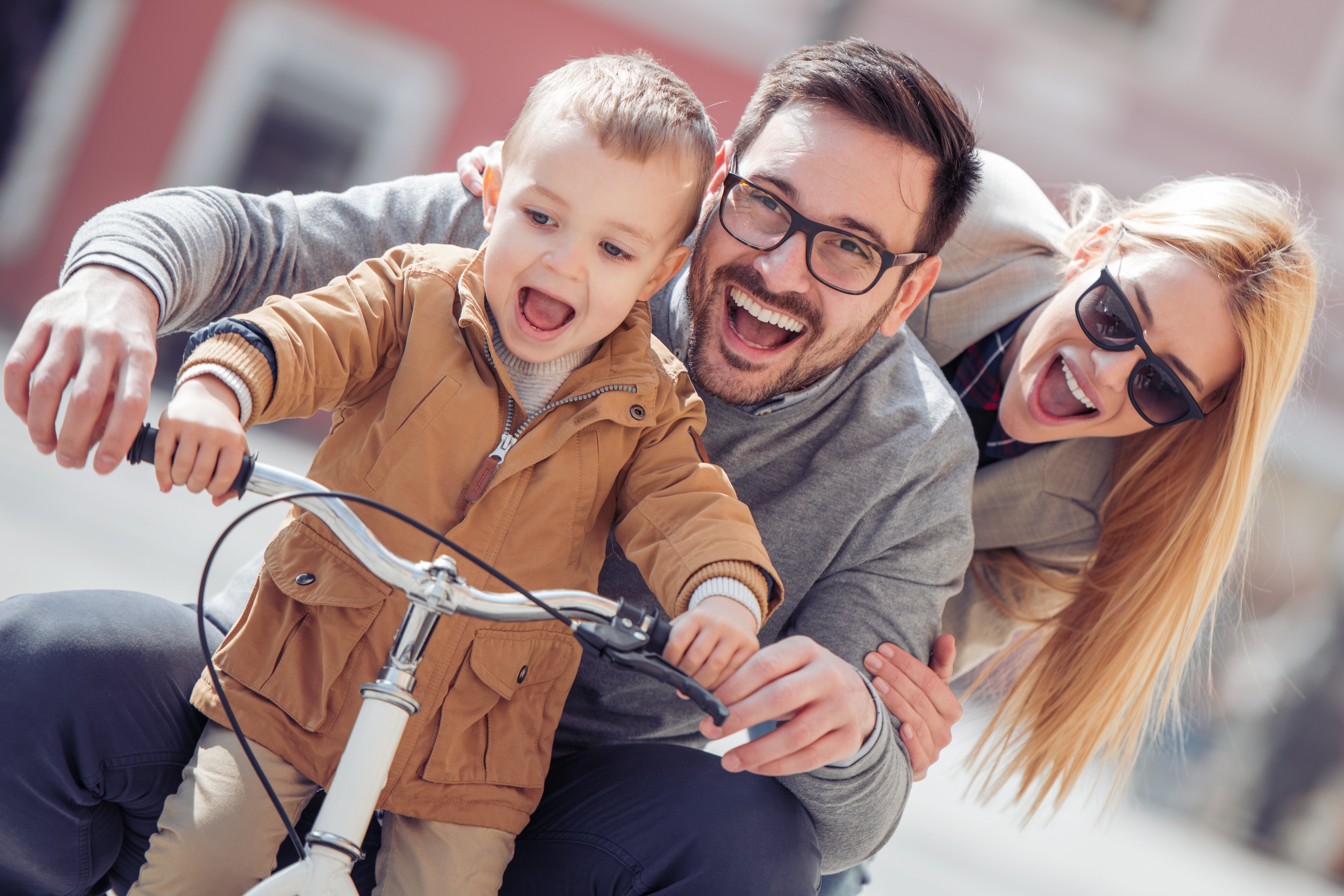 Bike riding is not only fun, it's also a fun way to get around. As we all try to find ways to reduce our carbon footprint, riding a bike has become an even more popular way to run errands, get to work, and more. The sooner you teach your kids to ride a bike, the sooner they can have fun getting around on their own. As a family, ride around your neighborhood or take your bikes to a scenic location to go on an adventure together.
3. Go bird watching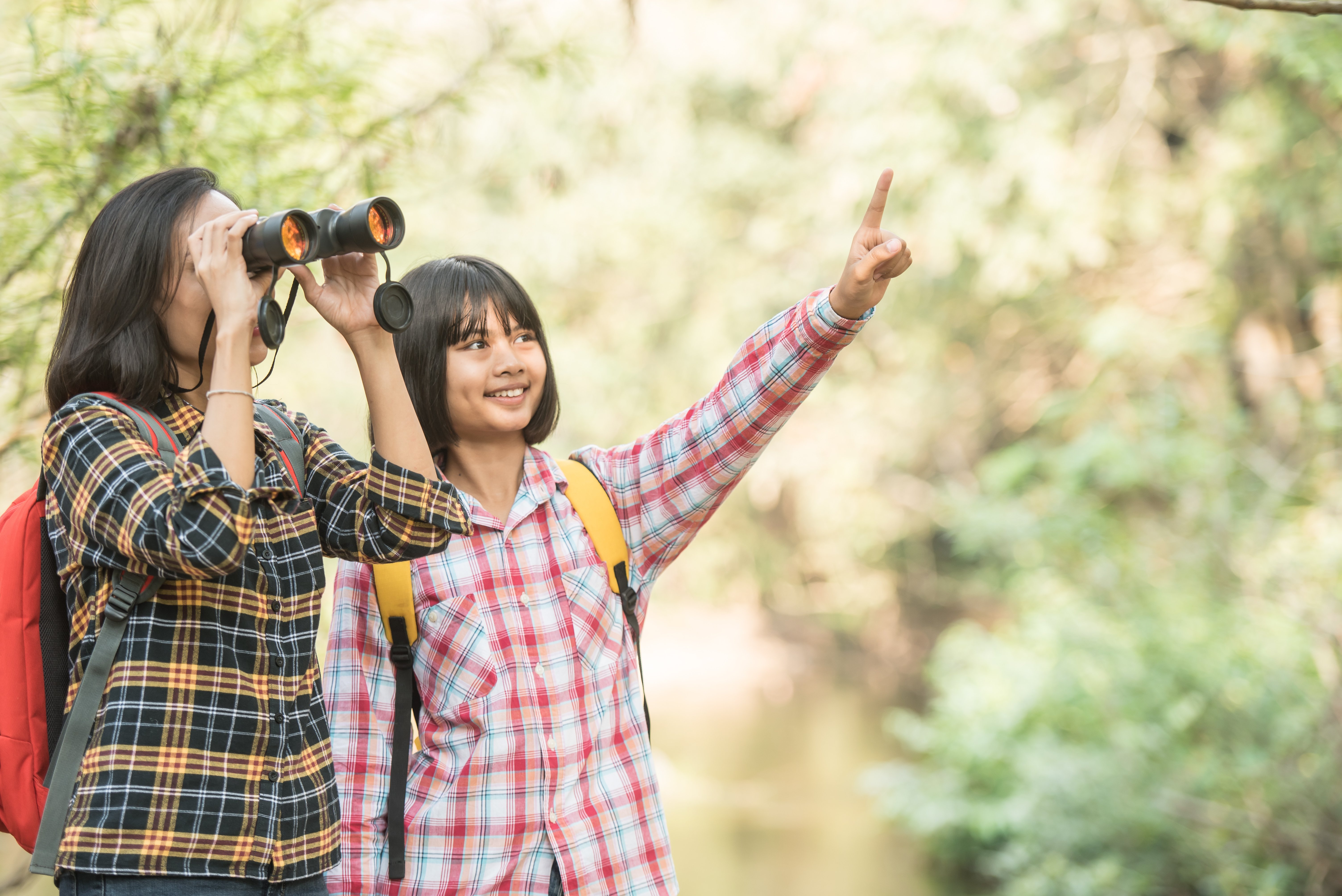 Not all of us live in areas where we can get out in what we'd call the "great outdoors." We may only have small outdoor spaces to explore like a backyard, a local park, or even just a porch or balcony. But having small outdoor spaces doesn't mean that you can't spend time teaching your kids about the animals around us. Birds are always around and can be observed in almost any environments. Track what species of birds you see with your little ones. And if your local regulations permit, you may even want to make a simple bird feeder. Try covering pinecones with peanut butter and then rolling them in birdseed to help attract more feathered friends.
4. Bounce around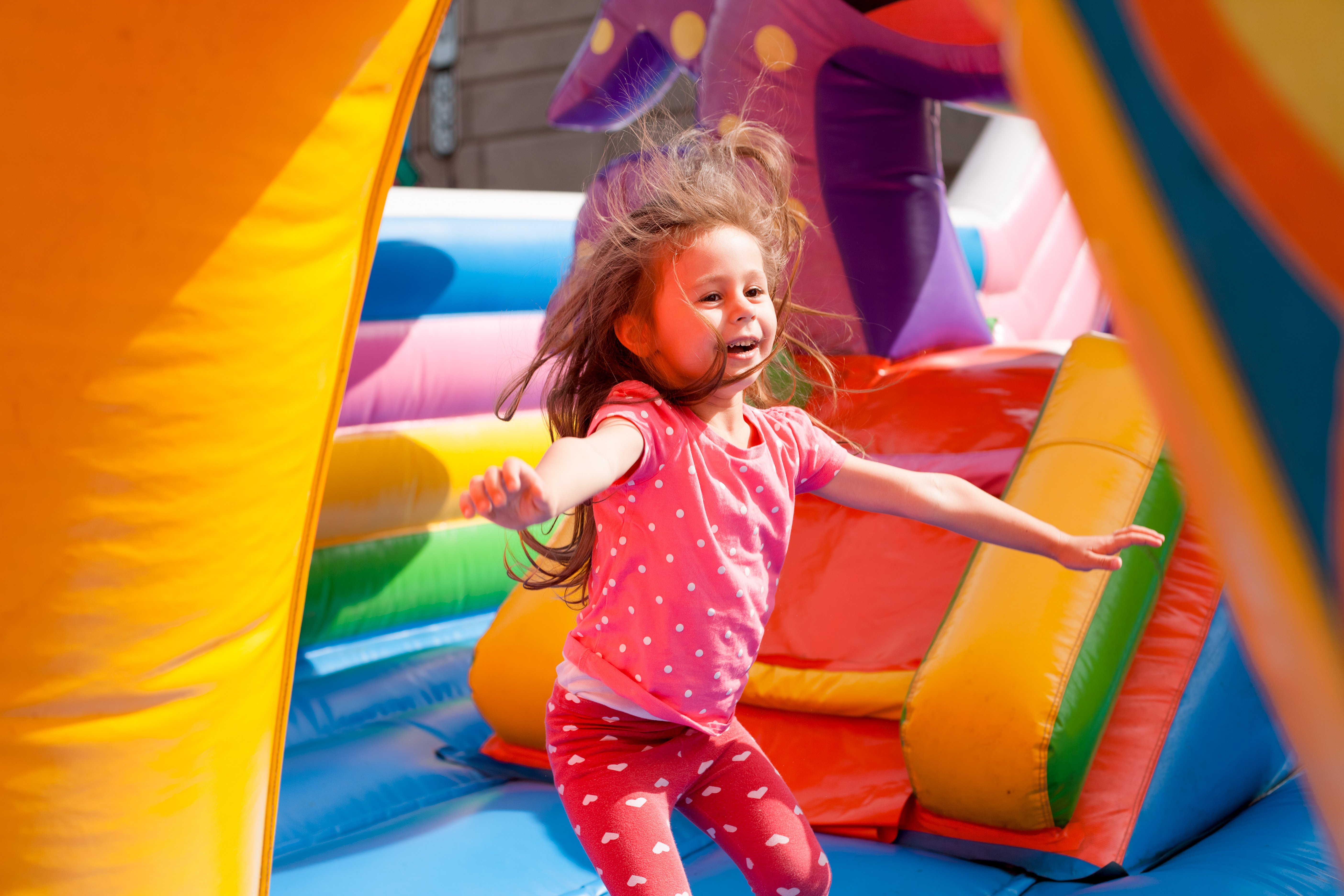 One of the fastest and most fun ways to burn off some energy outdoors is by bouncing around! Your crew might enjoy jumping on a trampoline if you have one. Or if you're feeling like you want to share the fun, get other families together in your neighborhood to go in on a bounce house. If you're in a more urban space, you can even work with local official to close down the street on your block so that you can set up a bounce house.
5. Blow some bubbles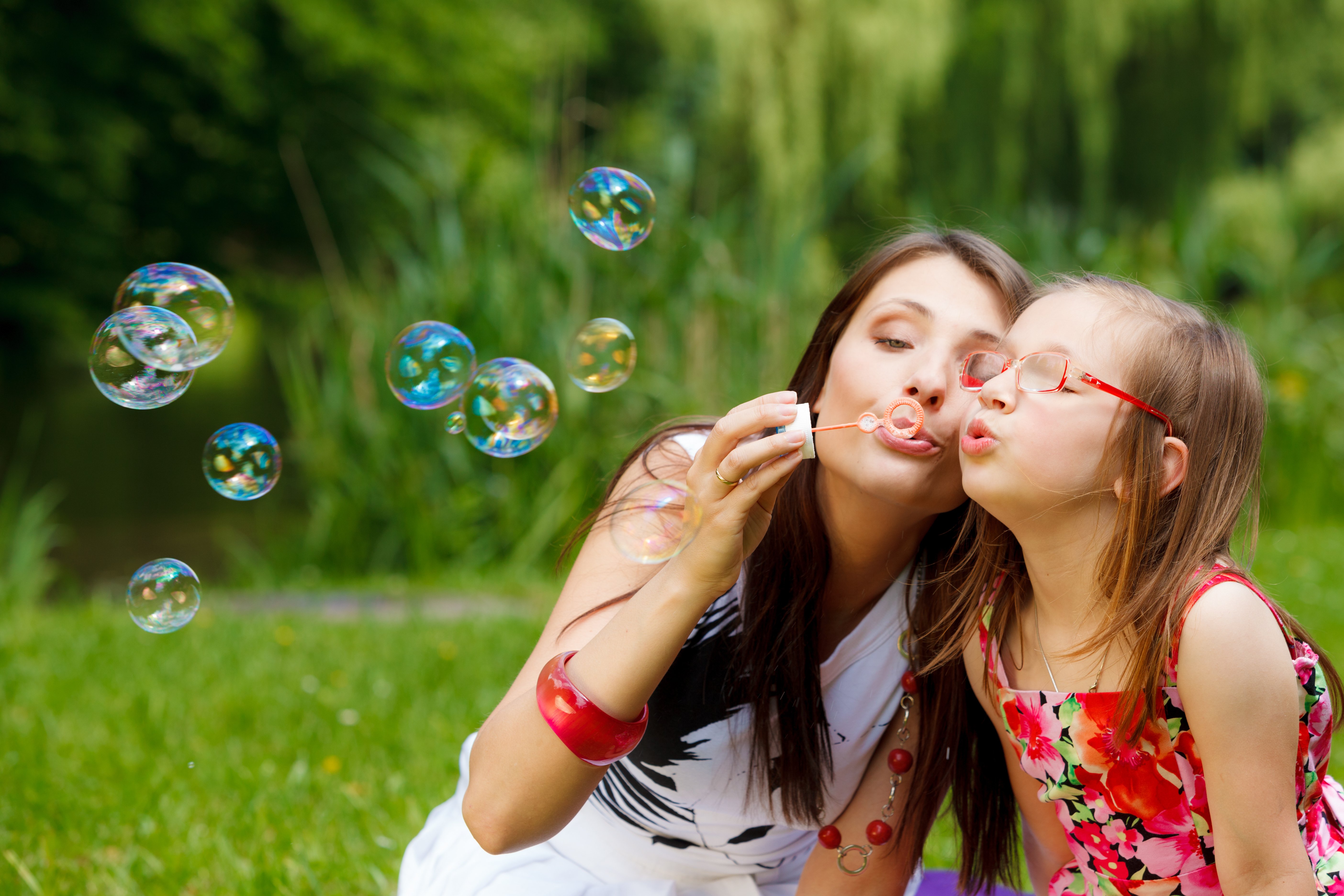 Everyone loves blowing bubbles, no matter your age! This simple pastime can provide hours of entertainment for your family. You can blow bubbles using small wands sitting on your stoop or create giant bubbles in your back yard or park. (If you're aiming for bigger bubbles, do this activity on a day that's not so windy.) Making your own bubble solution is easy. For every one cup of water, just add ¼ cup of liquid dish soap, and 1 tbs of glycerin or corn syrup.
6. Go camping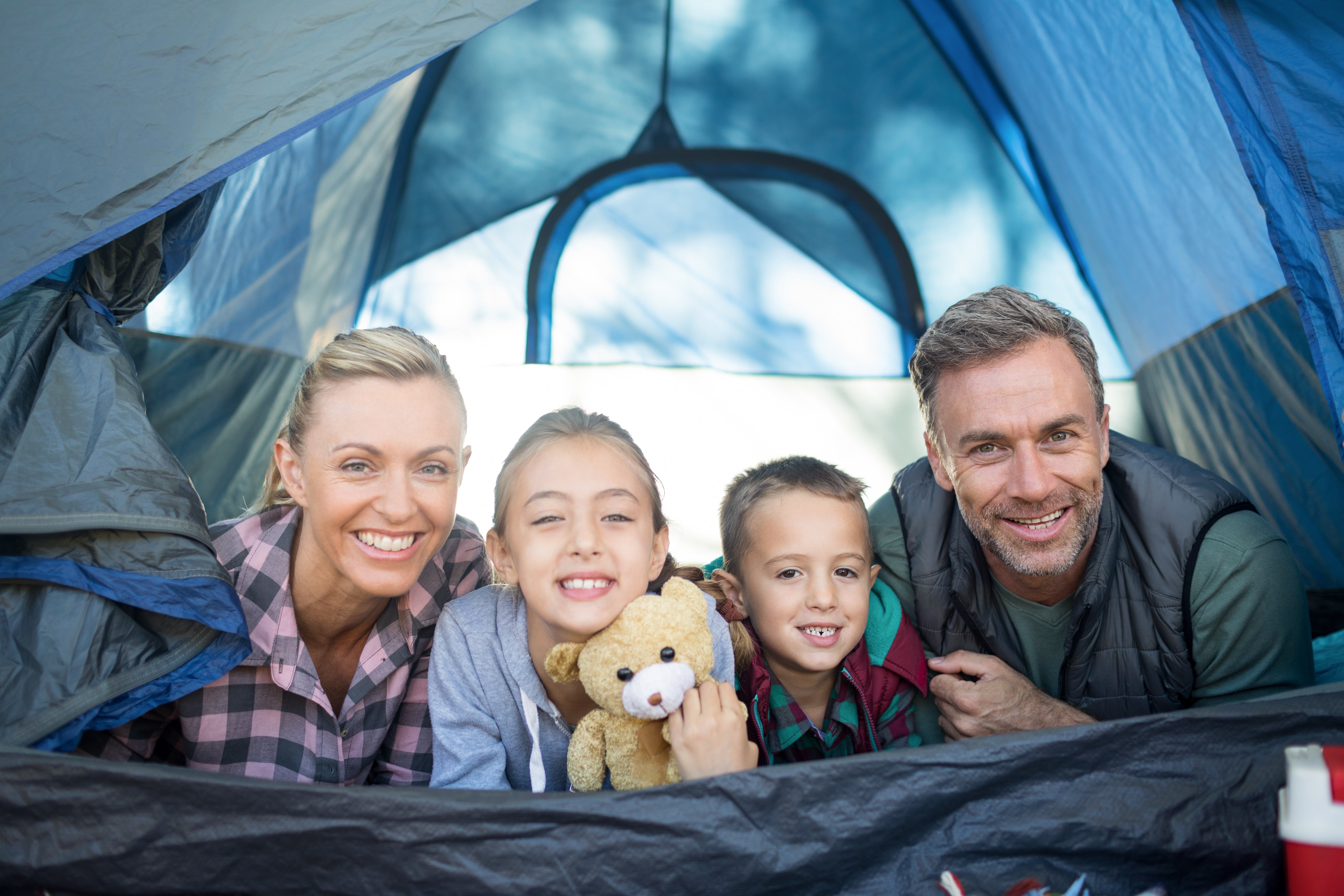 If you really want to spend some quality time outdoors, a family camping trip is the way to go. You don't need to go far – you can even set up a tent in your backyard. Camping is a great way to teach children valuable skills, get some much-needed fresh air, and commune with nature. Preparing for a camping trip, even if it's just for a night, can be a lot of work. But you're going to get some unforgettable memories that will last a lifetime out of a family camping trip. And if sleeping under the stars isn't your family's thing – try glamping. Take a trip where you're spending most of your time doing outdoor activities, but have access to indoor space to sleep in at night.
7. Gather 'round a fire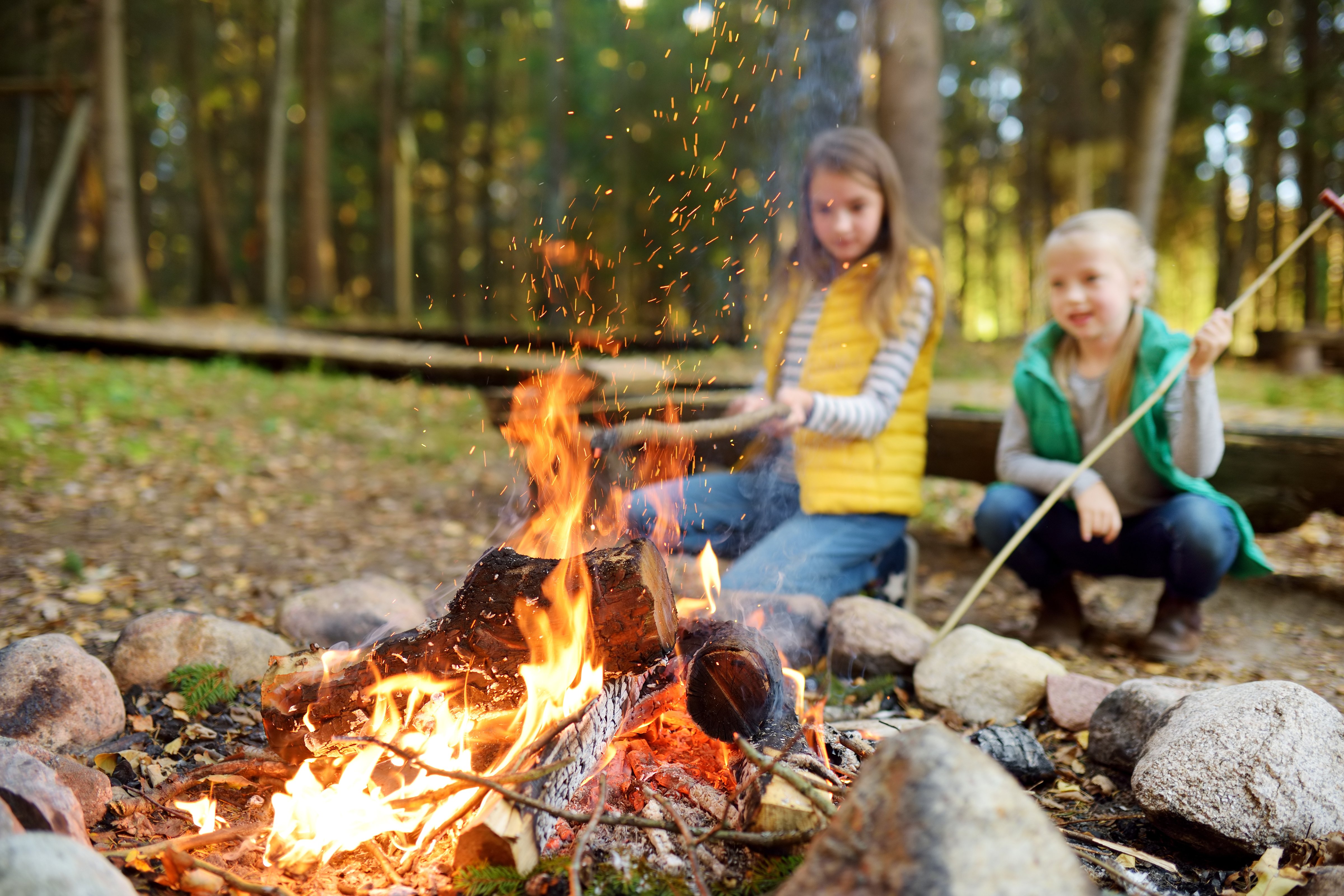 Cozy up with your little ones around a fire get some fresh air. Sing songs, snack on s'mores, and share scary stories around a bonfire. If you don't have a lot of outdoor space of your own for a big bonfire, there may be public spaces where you can have one (though some locations may require a permit). Portable fire pits are also popular ways to enjoy the warm of open flames in a variety of spaces. Just remember, safety first!
8. Get fit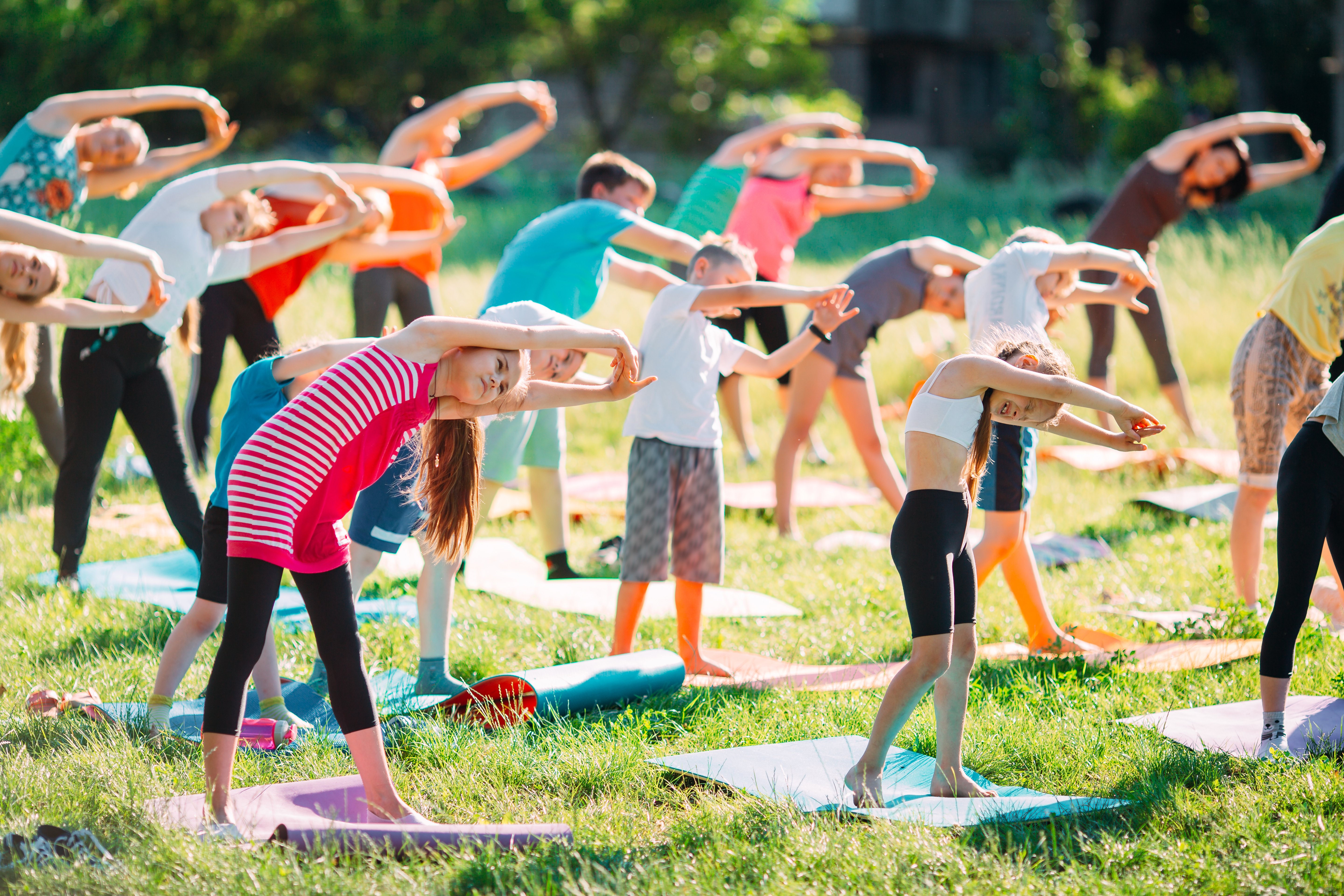 The list of ways to exercise outside is practically endless. Why not share some of your fitness routine with your kiddos? Developing healthy habits with your children at an early age is one of the best ways to ensure they'll continue them into adulthood. And it's never too soon to teach kids that the most important part of exercise is staying healthy and setting personal goals, not trying to compete with others. You can enjoy exercising with just your family, or join up with others in a group fitness class.
9. Go for a hike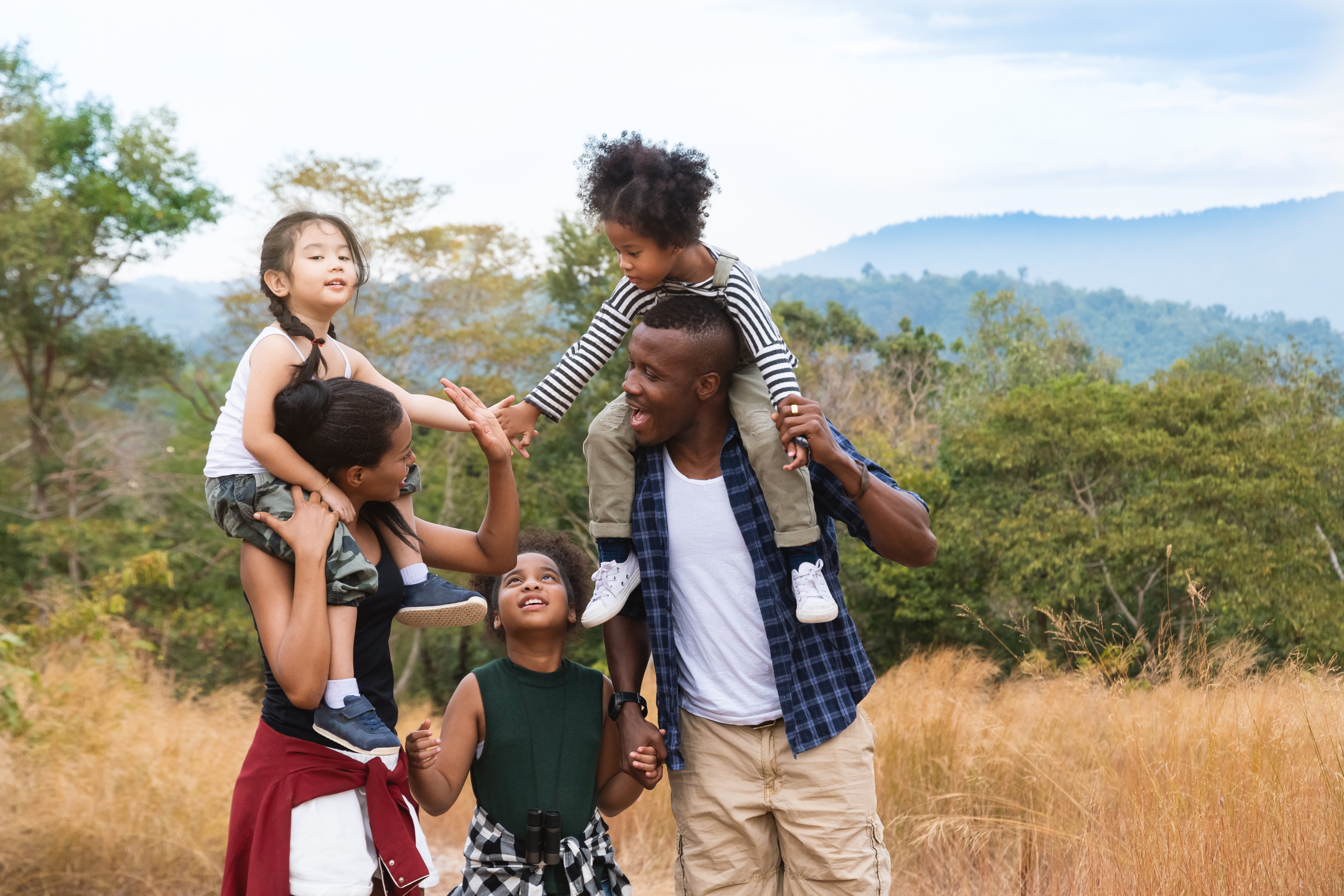 Hop on over to your family's favorite hiking trail to enjoy the outdoors. To make things more interesting, you can play games like "I spy," trail bingo, scavenger hunts, or hide and seek. If you're lucky enough to have several spots in your area to hike, make a map with all the locations you want to explore. Then, make a plan to visit as many as you can. Soon, everyone is sure to find a favorite trail that you like to return to again and again. You can also explore the same paths at different times of year and keep track of how the environment changes with each season. If you want to learn even more on your hike, visit state and national parks so that a trained ranger can be your guide.
10. Hula hoop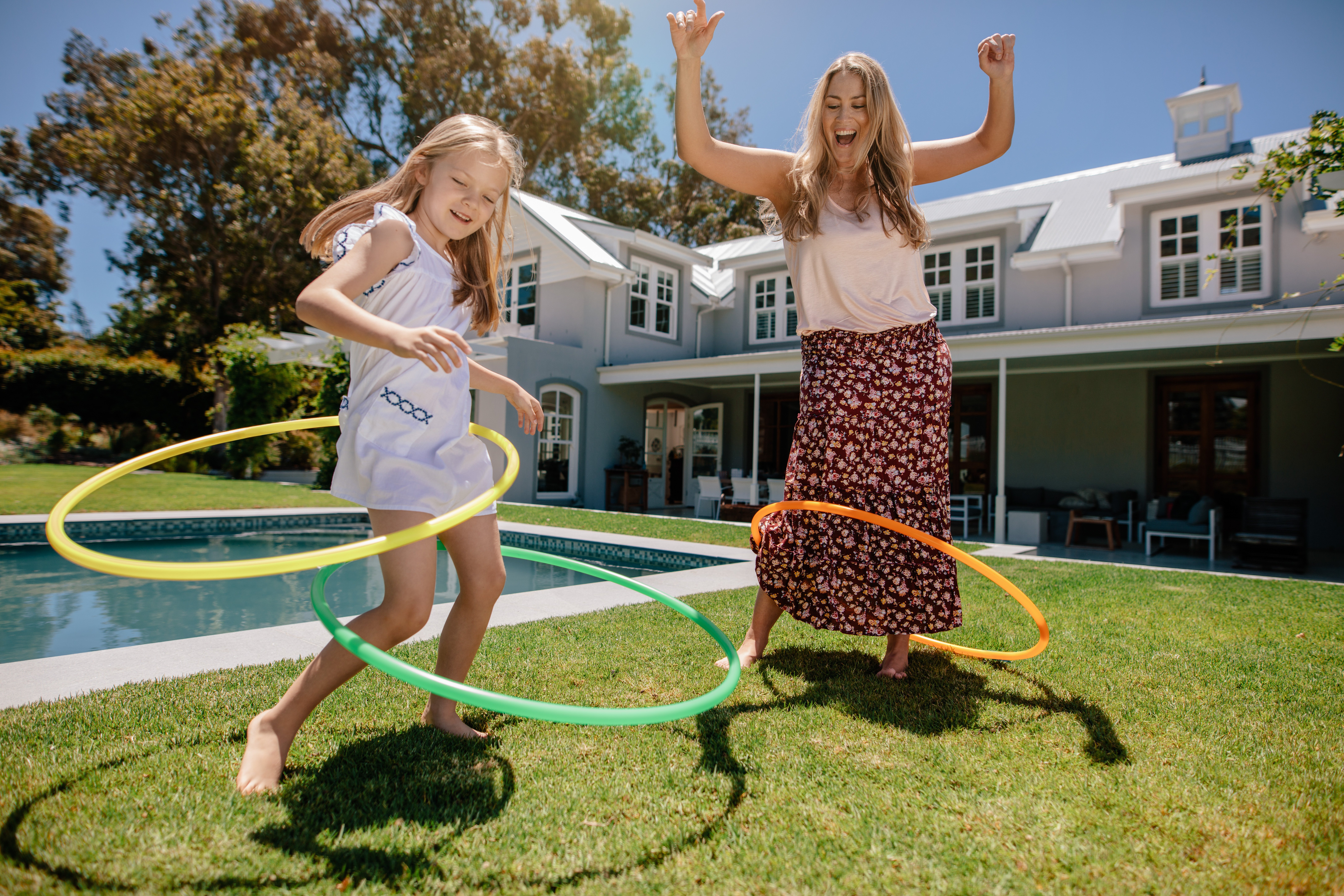 Did you know hula hooping has been around for over two thousand years? The crazy really took off during the mid 20th century, but is still a fun past time and a great way to get active outdoors. You can have contests to see who can keep a hula hoop up the longest in your group, or who can keep the most hula hoops going at the same time. It's a lot harder than you think, but oh so much fun!
11. Jump rope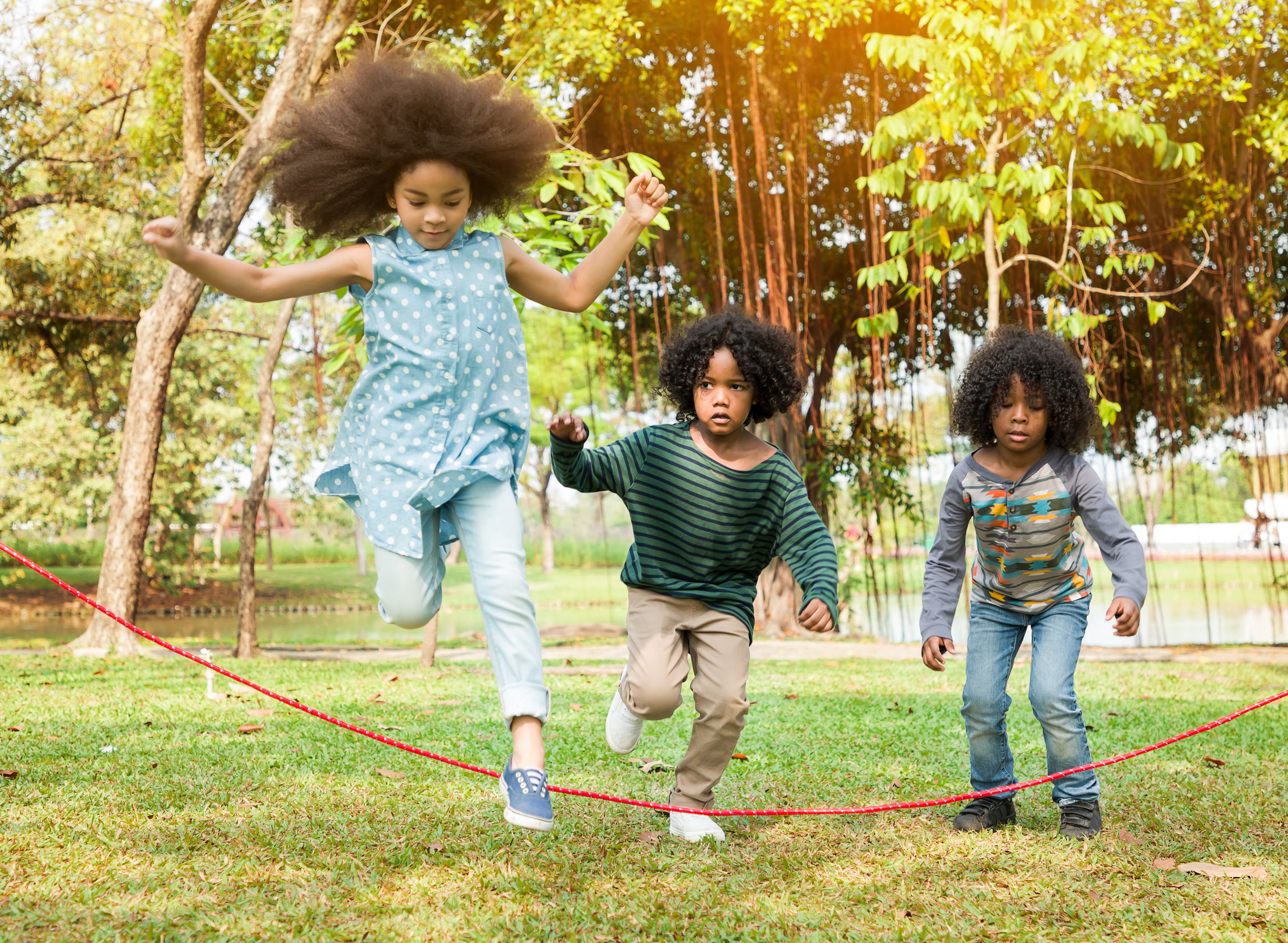 Who doesn't have memories jumping rope with friends and playing all sorts of games? Whether you want to jump solo, or just turn the rope while others jump, there's all sorts of ways to participate in this activity. You don't have to be the best double Dutch jumper to have fun, you can even cheer others on from the sidelines and join in with classic jump rope rhymes and songs like "Miss Mary Mack."
12. Go fly a kite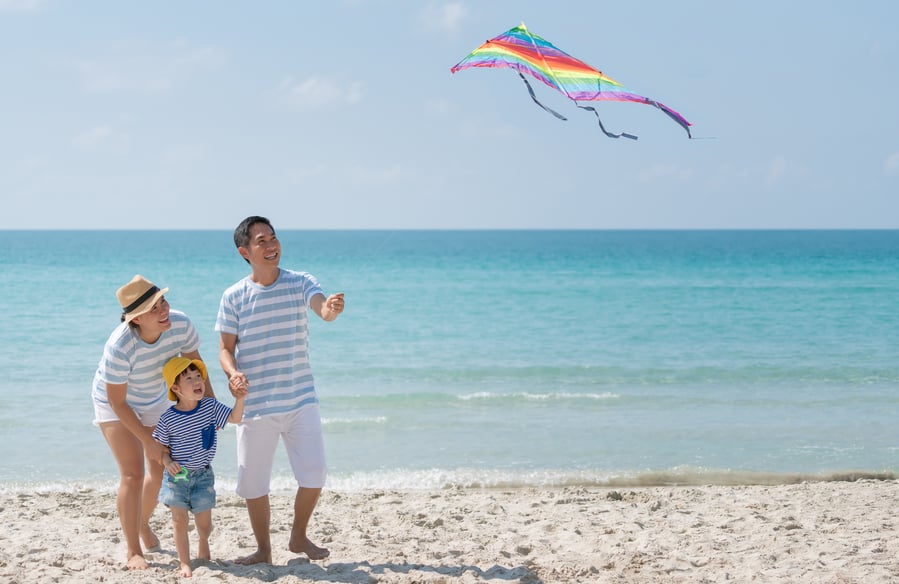 Let's go fly a kite, up the highest height! One tried-and-true way to enjoy spending time with your family outside is flying a kite. Kites come in so many shapes, sizes, and styles. You can even try making your own. Older kids will especially enjoy flying a stunt kite. Whatever kind of kite you choose, make you fly it an area with adequate space so that no one gets hurt if it takes a sudden dive. And always use proper kite line so that your craft doesn't sail away!
13. Pack a picnic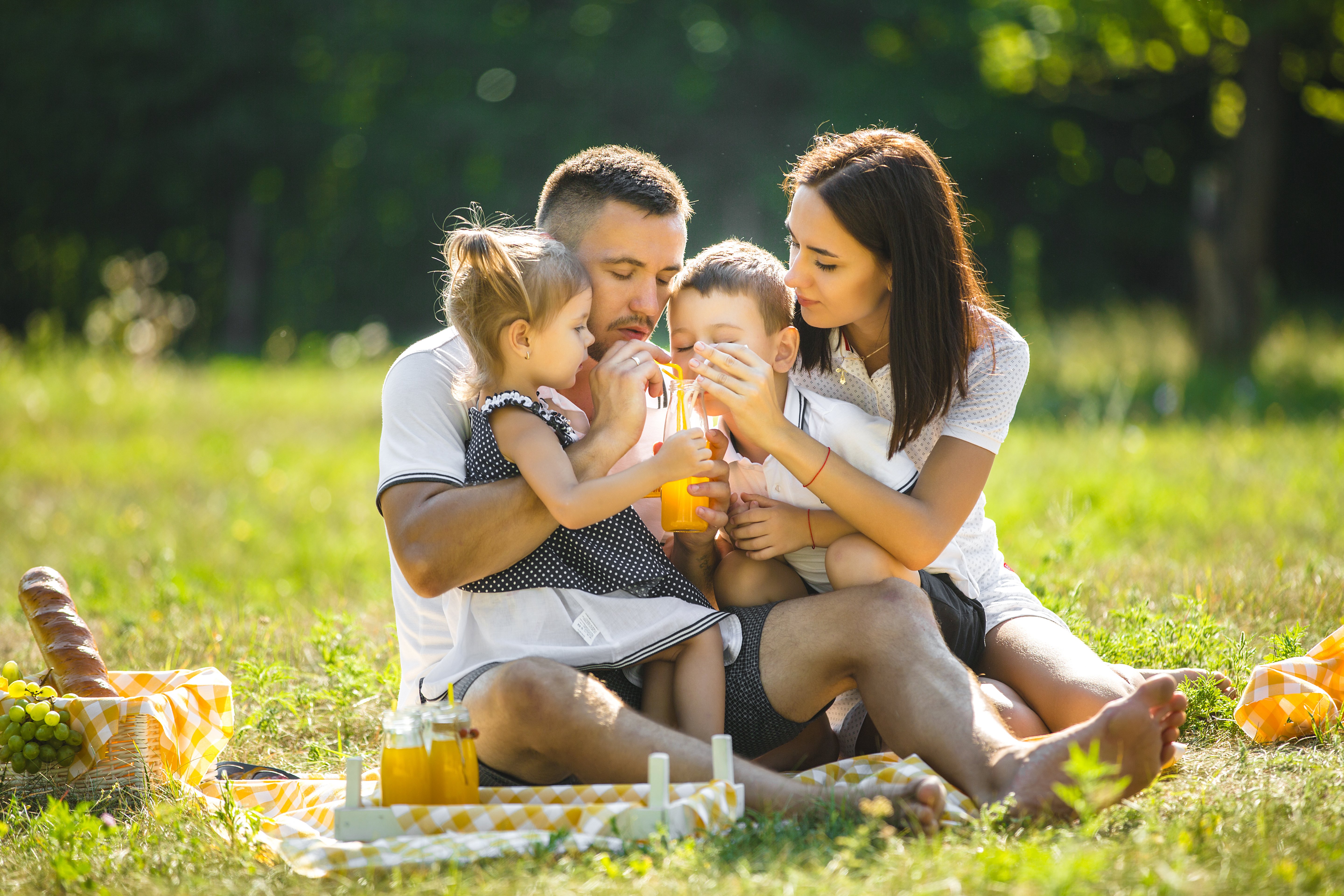 What's better on a beautiful day than a picnic? Pack a picnic and eat al fresco with your fam. Your meal can be as simple or as elaborate as you'd like. Just remember not to pack items which are too messy or require refrigeration. Dealing with too many dirty dishes or food containers is also no fun. Use disposable plates and cups to save time on clean up. Pick paper over plastic. If you don't want to bring metal cutlery, save plastic forks, knives, and spoons so that you can use them again to reduce plastic waste.
14. Head to the playground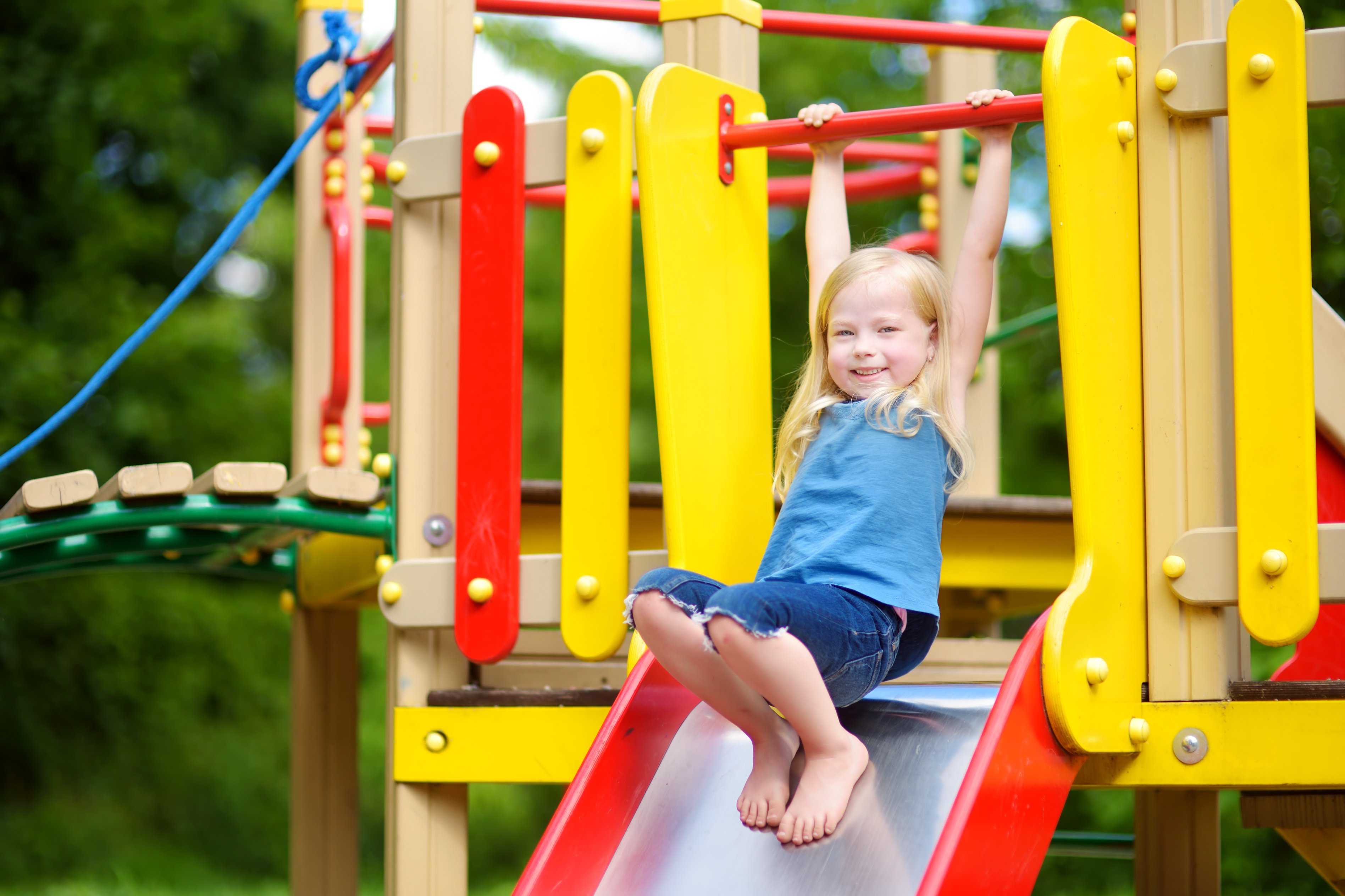 Heading to a local playground is one of the simplest ways to keep your kiddos entertained outdoors. Not only do they provide lots of ways for children to get some exercise outside. There's also a good chance other families will be there, too, so they can find some essential time to make new friends and socialize. Not to mention, mom and dad can meet other parents while the kids run around. As a bonus, some playgrounds even have water features that are very welcome during the hottest months of year. Other play spaces will even have areas for dogs that are adjacent, so even your fur babies can have fun and socialize.
15. Get creative with sidewalk chalk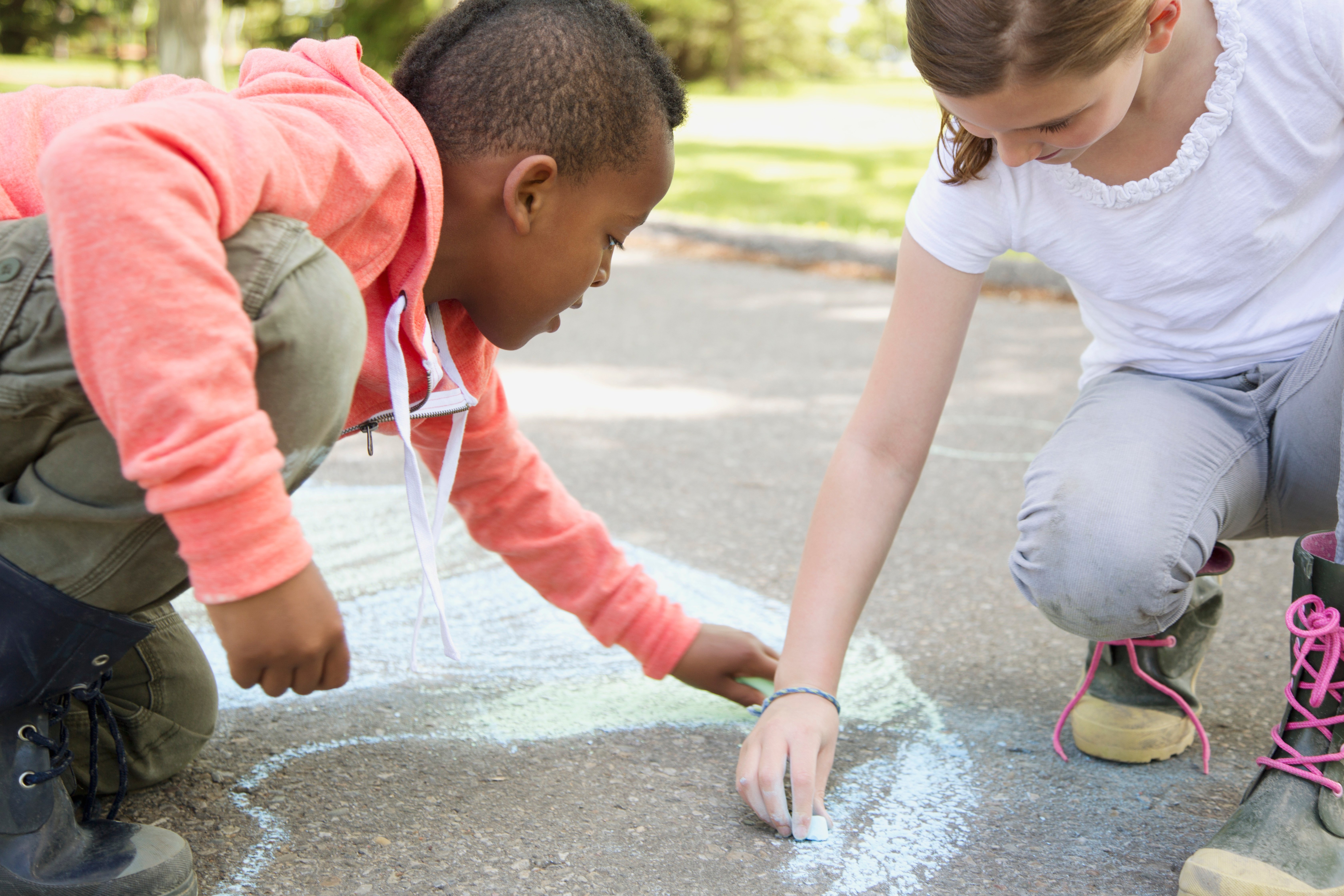 Getting out a box of crayons, colored pencils, or markers is a great way to spend a rainy day. But in better weather, your kids can create beautiful works of art outside with sidewalk chalk. When you're using sidewalk chalk, you don't have to worry about wasting paper. Just wash away any mistakes or to start completely fresh, and you've got an almost endless supply of canvass. Drawing with sidewalk chalk can also encourage kids to share and work together. And of course, you can't spend an afternoon chalking without drawing a hopscotch board!
16. Strap on some skates
What do you prefer, rollerblades or roller skates? You might want to let your kids skate around in the driveway or in a nearby street while you do some yard work or other projects outside. Or join them and go for a roll as a family. As a tip, you may want to get adjustable skates for your littlest ones that fit over their shoes. That way, they won't outgrow them as quickly. (And of course, make sure everyone wears helmets and proper padding to avoid cuts, scrapes, and other injuries.)
17. Go for a swim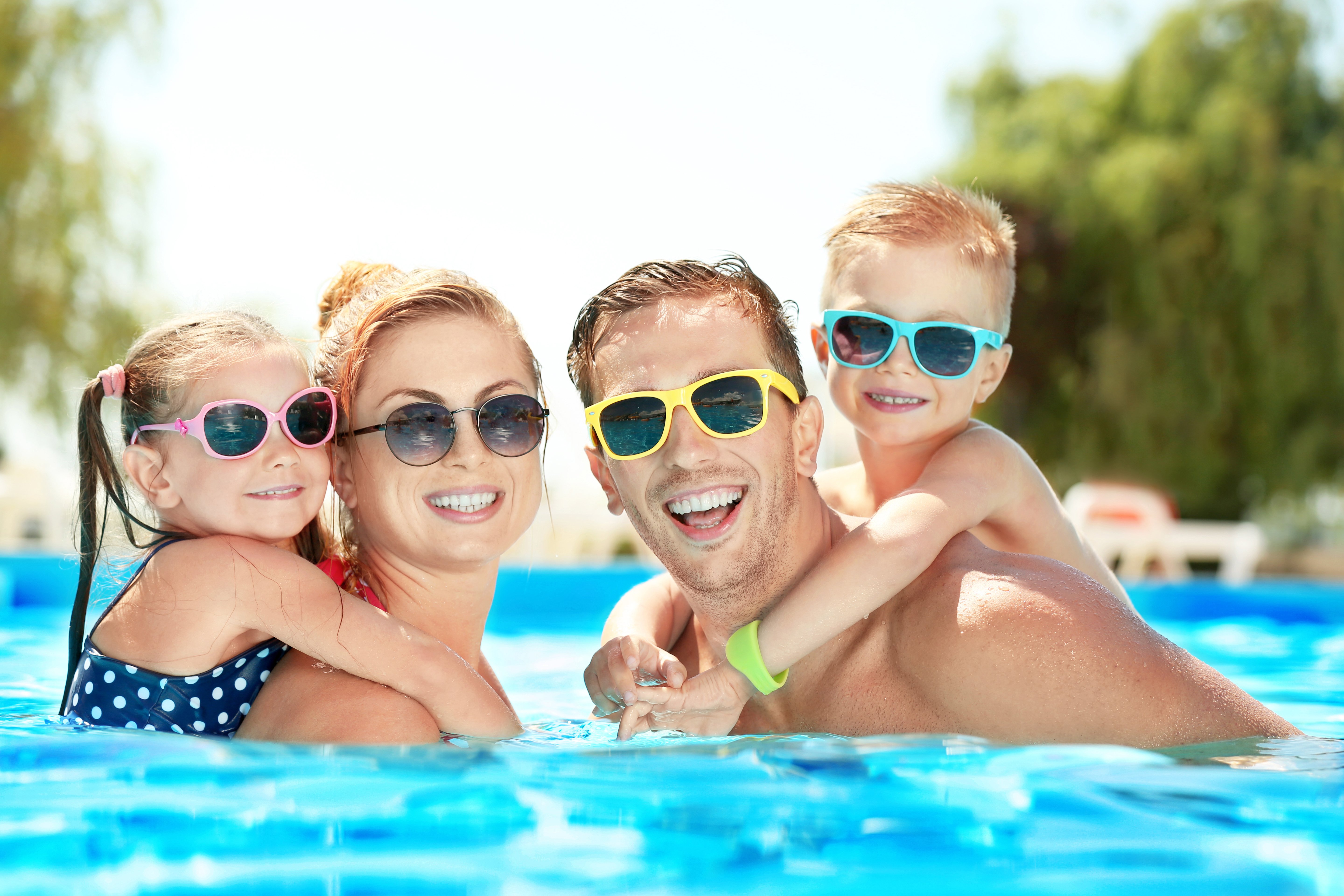 Almost nothing beats going for a swim when the sun is out, especially on a hot day. Maybe you're lucky enough to have a backyard pool, or a friend or family member with one who doesn't mind having visitors go for a splash. Community pools are also a great option. Of course, if there're natural bodies of water nearby, take everyone for a dip in your local lake, river, bay, or ocean. If none of those are options, you'd be surprised how much fun your kids will have with a baby pool and a hose.
18. Run through sprinklers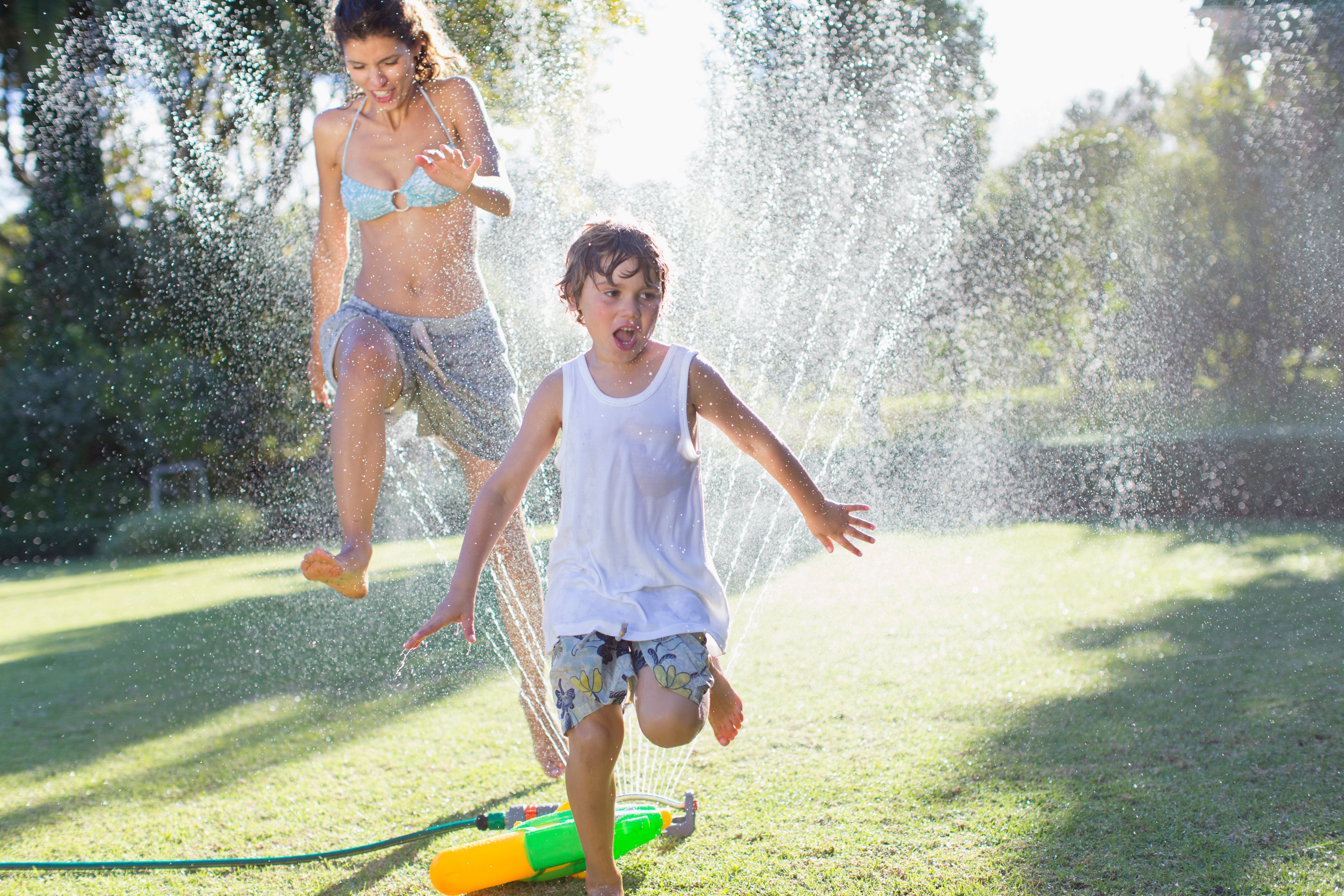 Another great way to let your kids cool down while getting some sun is to let them run through the sprinklers. This is a great alternative to visiting a pool or natural body of water. And you can get some of your lawn care done while the kids burn some calories!
19. Play with water balloons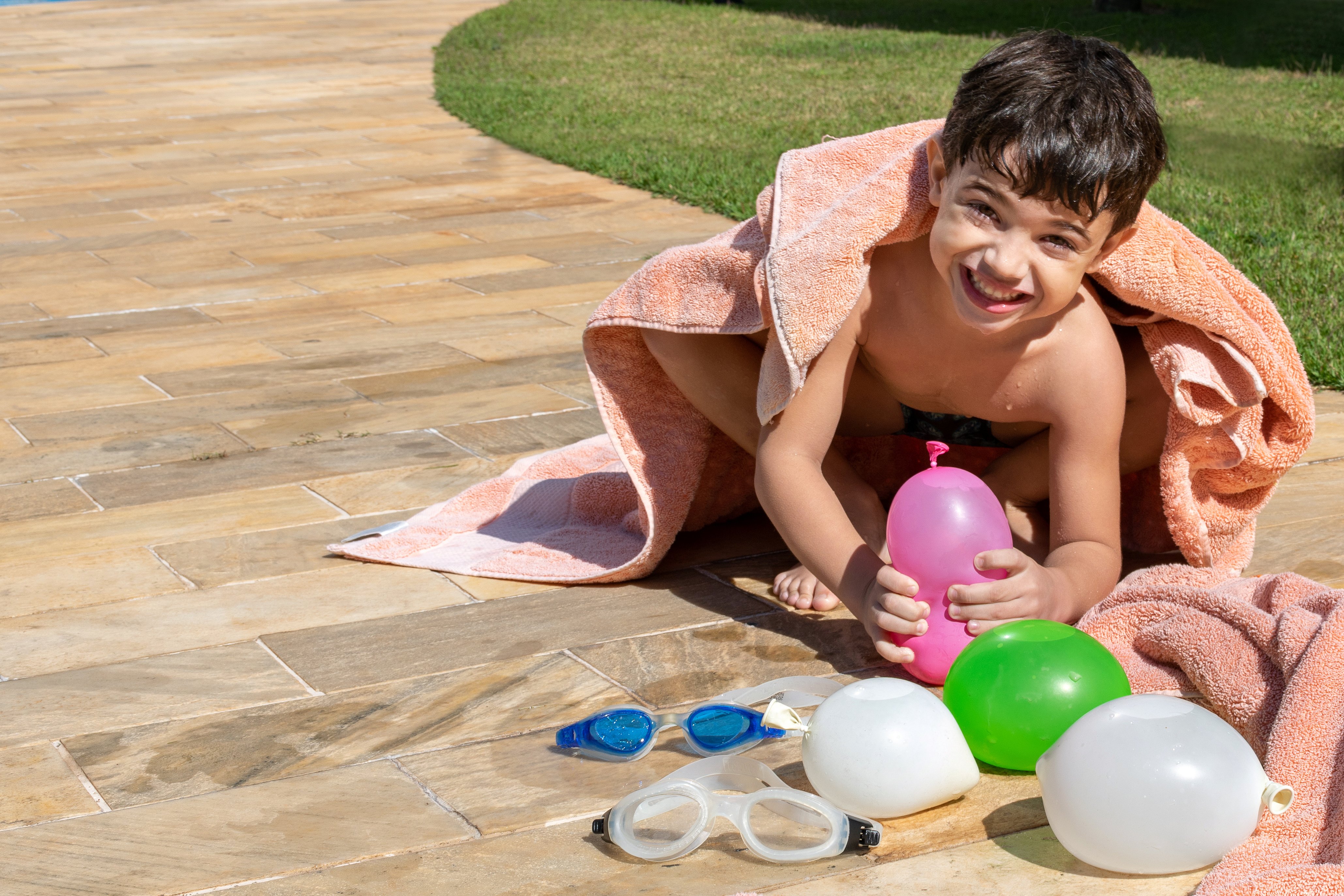 The spring and summer months would hardly be complete without a water balloon fight! But there are more games you can play with water balloons too, like a good old fashioned water balloon toss. Have your kids toss a water balloon back and forth, taking a step back with each pass until the balloon finally pops. You can also do a water balloon bucket toss to see who can land the most shots. Whatever you decide, just make sure to clean up after your games so that no critters or creatures end up eating pieces of broken balloons.
There's no limit to the ways you and your family can have fun under the sun, but we hope this list gets you started with some good ideas to get outside together. And come rain or shine, we've got ideas for your family to enjoy every day of the year on The Holiday Blog. Don't forget to subscribe!