The History Behind Christmas in July and How to Celebrate It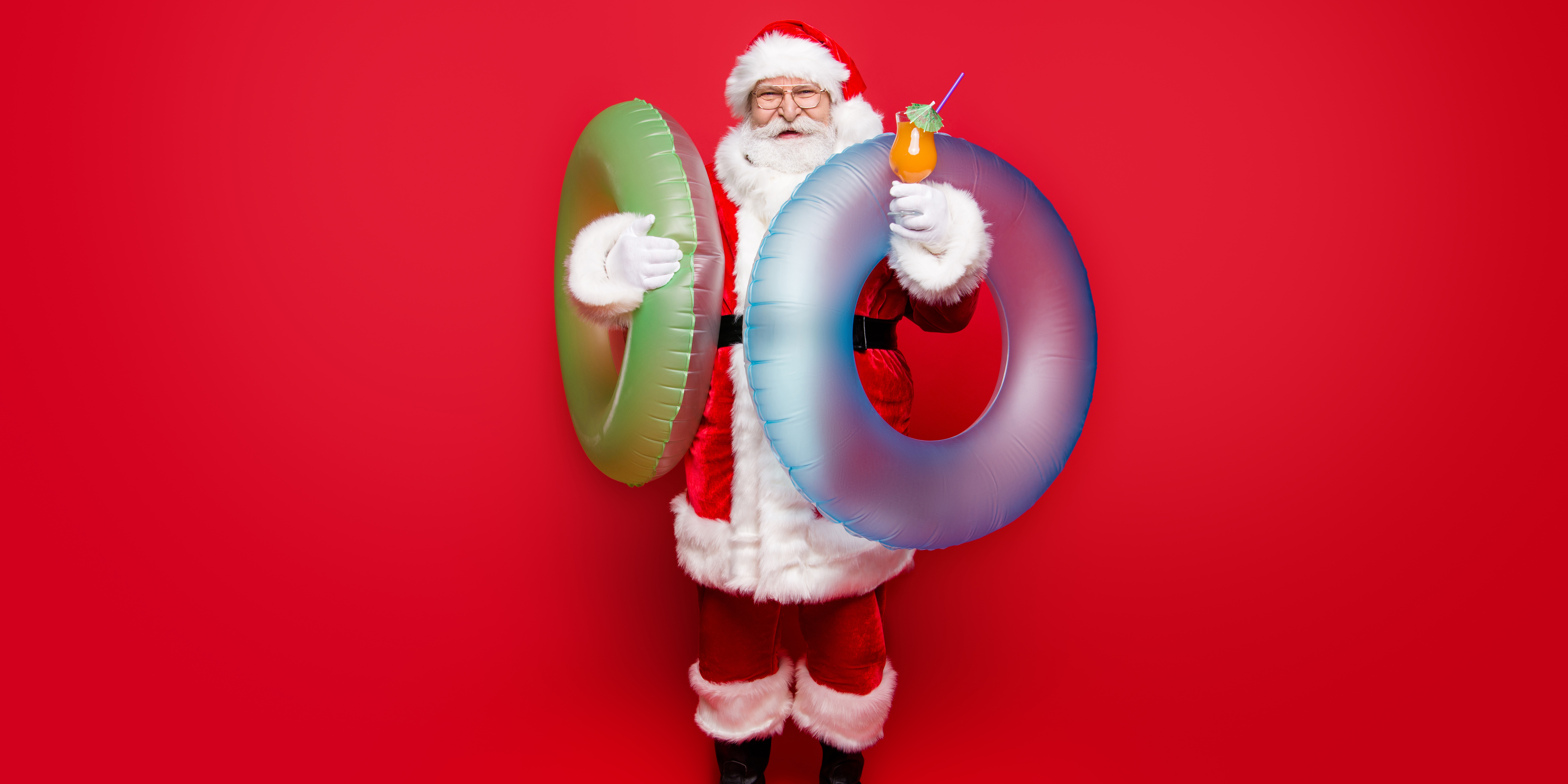 Christmas is one of the most celebrated holidays around the world. But have you heard of Christmas in July? If the holiday is new to you, read on!
Christmas in July began in 1933 at Keystone Camp for girls in Brevard, North Carolina. The camp's founder, Fanine Holt, added magic to their summer activities by hosting the first Christmas and they've continued the tradition there ever since.
"The first Christmas in July included carolers, a Christmas tree, Santa Claus, presents, and fake snow made of cotton. As the tradition evolved, campers would use laundry bags as makeshift stockings, which they placed outside their cabins to be filled with candy overnight. Eventually elves, reindeer, and Mrs. Claus joined the act, along with a camp-wide gift exchange, counselors included," according to Southern Living.
Today, Christmas in July carries on the traditions started at Keystone Camp. Some families like to deck their halls with festive décor and cook an entire Christmas dinner, while others celebrate with a simple gift exchange.
The ways you create magic for Christmas in July are up to you! Here are some of our suggestions how to add Santa Magic to your summer, whether you want to celebrate on the official date of July 25th, or all month long.
Exchange gifts
Christmas in July is a wonderful time to connect with the ones you love with a gift exchange. Make your list and check it twice, then organize a get-together with friends and family to exchange presents. Looking for a unique gift? Why not share homemade jams, pies, pickles, or even fresh herbs and vegetables from your home garden or local farmer's market? You can even do a white elephant gift exchange to make better use of any items you have at home but don't need.
Hang stockings
Everyone loves stocking stuffers! Though little ones sometimes prefer sweet treats like candy in their stockings, the older we get, the more we appreciate practical items for stocking stuffers. Instead of typical, winter-themed small gift ideas like lip balm, socks, or mittens, stuff stockings with summery items like suntan lotion, sunglasses, or swimming goggles.
Create Christmasy snacks
Break out all of those festive cookie cutters you typically save for the winter months, and repurpose them to create lighter, summer fare. Who wouldn't want a Christmas tree shaped sandwich for a special lunch at the beach or by the pool? You could even make Christmas-themed gelatin treats in flavors like red raspberry and lime. If you want to keep things extra healthy, slice a watermelon into large discs and then have your kids use their favorite cookie shapes to cut smaller pieces for a refreshing summer snack.
Make festive drinks
Turn your favorite beverages into cooler versions you can sip on in the summer. Whip up frozen hot chocolate or sip an eggnog flavored milkshake. Instead of warm apple cider, add spices to your favorite apple juice or cider and serve over ice. Moms and dads might want to add some spirits to their cider to make their spirits bright. And instead of a typical summer fruit sangria, why not add mulling spices to your favorite sangria recipe?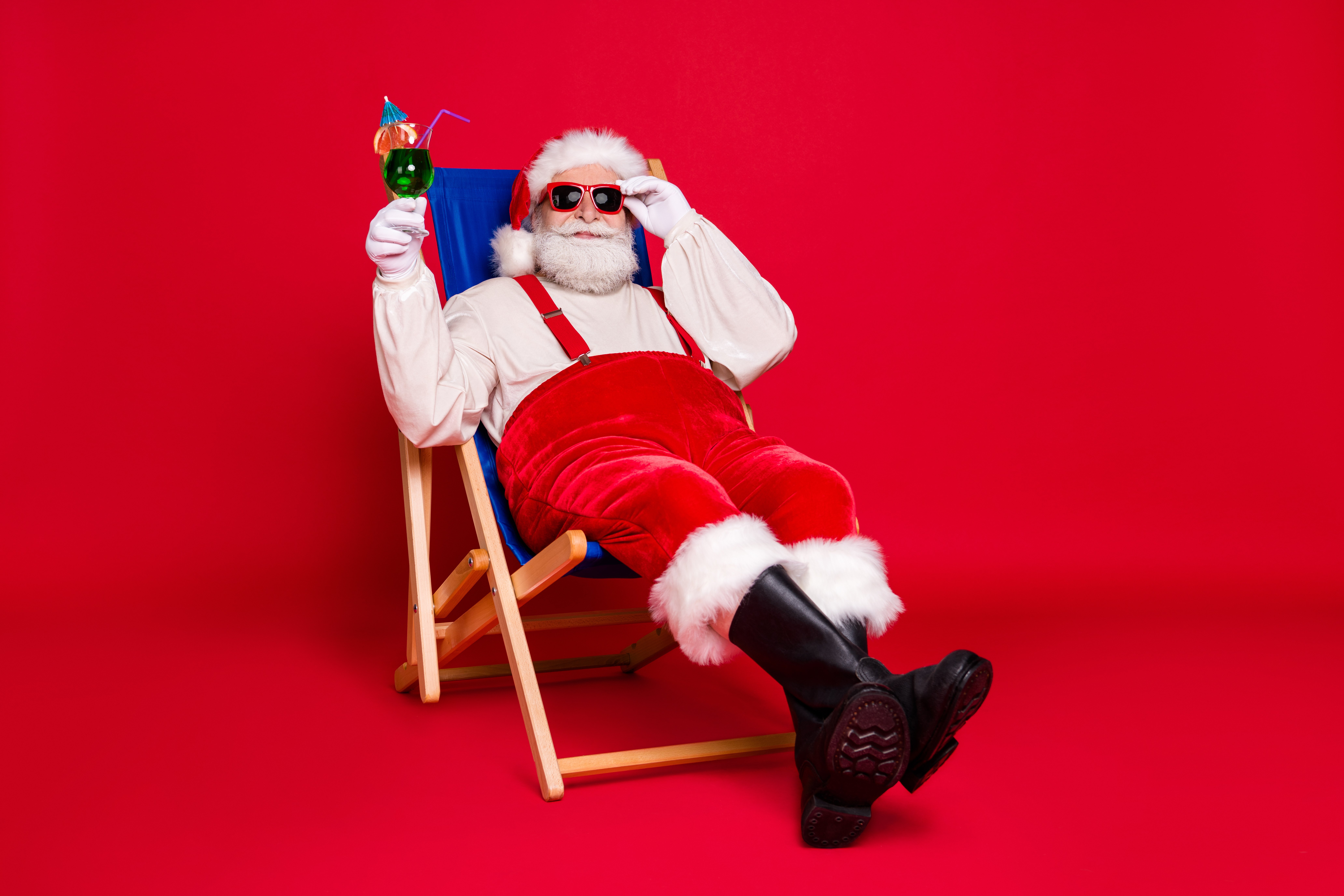 Host a cookout
Spending hours in the kitchen cooking the perfect Christmas dinner is a lot of work, but summer may not be the best time to run your oven all day for a holiday meal. But you can always host a Christmas in July cookout! Throw a ham, turkey legs, or your favorite plant-based proteins on the grill. Substitute items like mashed potatoes that would serve as a hot side dish for cold options like potato salad.
Watch classic films
Few things are as comforting as your favorite holiday films. Pop some popcorn and gather around with your loved ones to have a Christmas movie marathon in July. Your family might have movies that you watch again and again every year. Or perhaps there's a recently released movie you didn't get a chance to watch yet because the winter holiday season is always so busy! If binge watching tv shows is more your thing, cue up a list of holiday episodes of your favorite shows and stream them back-to-back.
String lights
Christmas decorations always brighten up the darkest months of the year. But let's be honest, setting them up and taking them down every year can be a lot of work! Instead, you can quickly and easily add holiday magic to your Christmas in July celebrations with a simple string of lights, adding festive sparkle to your indoor and outdoor spaces.
Give back
Everyone knows that giving is better than receiving. Let Christmas in July be an extra excuse to give back to those in need and contribute to your favorite charitable organizations. You don't always have to give material things to improve the lives of others. Identify volunteer opportunities so that you and your family can lend helping hands to those in need.
We hope you enjoy adding to your family's annual traditions by celebrating Christmas in July with us! For more ideas on how you can create holiday magic all year long, don't forget to subscribe!