How to Make a Gratitude Jar With Your Family This Thanksgiving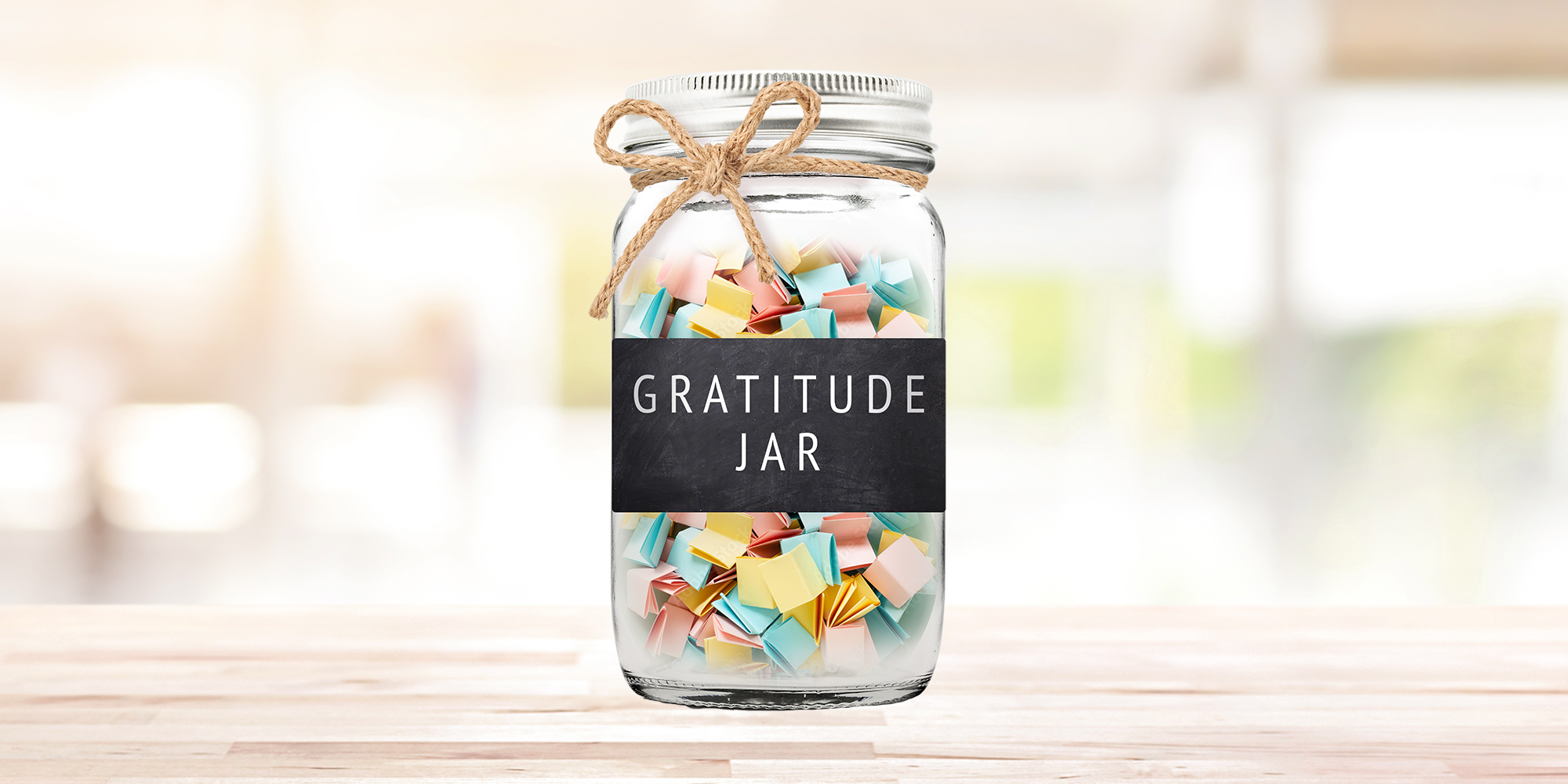 Though many of us think of delicious food when it comes to Thanksgiving, the true meaning of the holiday is, of course, to give thanks! One common Thanksgiving tradition is for people to share what they're grateful for before eating a meal together.
Creating a gratitude jar is a creative, hands-on way to help everyone in your family practice gratitude around Thanksgiving, or any time of year. The best part about this activity is that anyone of any age can take part, you need very little supplies, and there's virtually no mess or clean up involved! (All of which is very welcome when we're busy preparing a big family feast!)
To make a gratitude jar, you simply need a large jar, pieces of paper, and things to write with. If you like to get crafty, you and your crew can decorate it however you'd like! Then, write the things you're thankful for on slips of paper, and put them inside.
You may choose to have your group add things to your gratitude in the days and weeks leading up to Thanksgiving, and then read everything you wrote the day of your celebrations. Or, add things to your jar the day of Thanksgiving, and take time throughout the year to read what is inside. You could even let each member of your family create their own jar and make it an ongoing activity.
Nothing is too big or too small to add to the gratitude jar. Challenge everyone to write at least 3 things. You can help inspire your little ones with some of the questions below, and your jars will be filled in no time!
Who are the people you are grateful for?

What's something you love about your family?

Can you name three friends who are special to you?

What accomplishments are you proud of?

What's something you like about yourself?

What's something fun you did this week?

What's something that made you smile recently?

What's something that made you laugh recently?

What's something you're excited about?

What's something that made you happy this week?

What are some of your favorite memories?

What's something you learned recently?

Are there animals in your life that you're thankful for?

What are good things that have happened to others in your life?

We could all practice a little more gratitude. Having a jar full of reminders of everything we're thankful for can help us appreciate what we have, especially when we're faced with disappointment.
Making gratitude jars can also help your family come up with ways to give back to others. By reflecting on what you're most grateful for, you can discover what causes matter to you most. Then, you can identify ways to make an impact in your community.
Giving back to our communities is an integral part of our mission to bring magic to every experience. With your help, we're creating the Magic of Giving together! Learn more about our charitable partners and ways you can give back this holiday season.
For more inspiration to help your family create magic in your community, don't forget to subscribe to The Holiday Blog!