9 Pumpkin Carving Hacks Every Parent Needs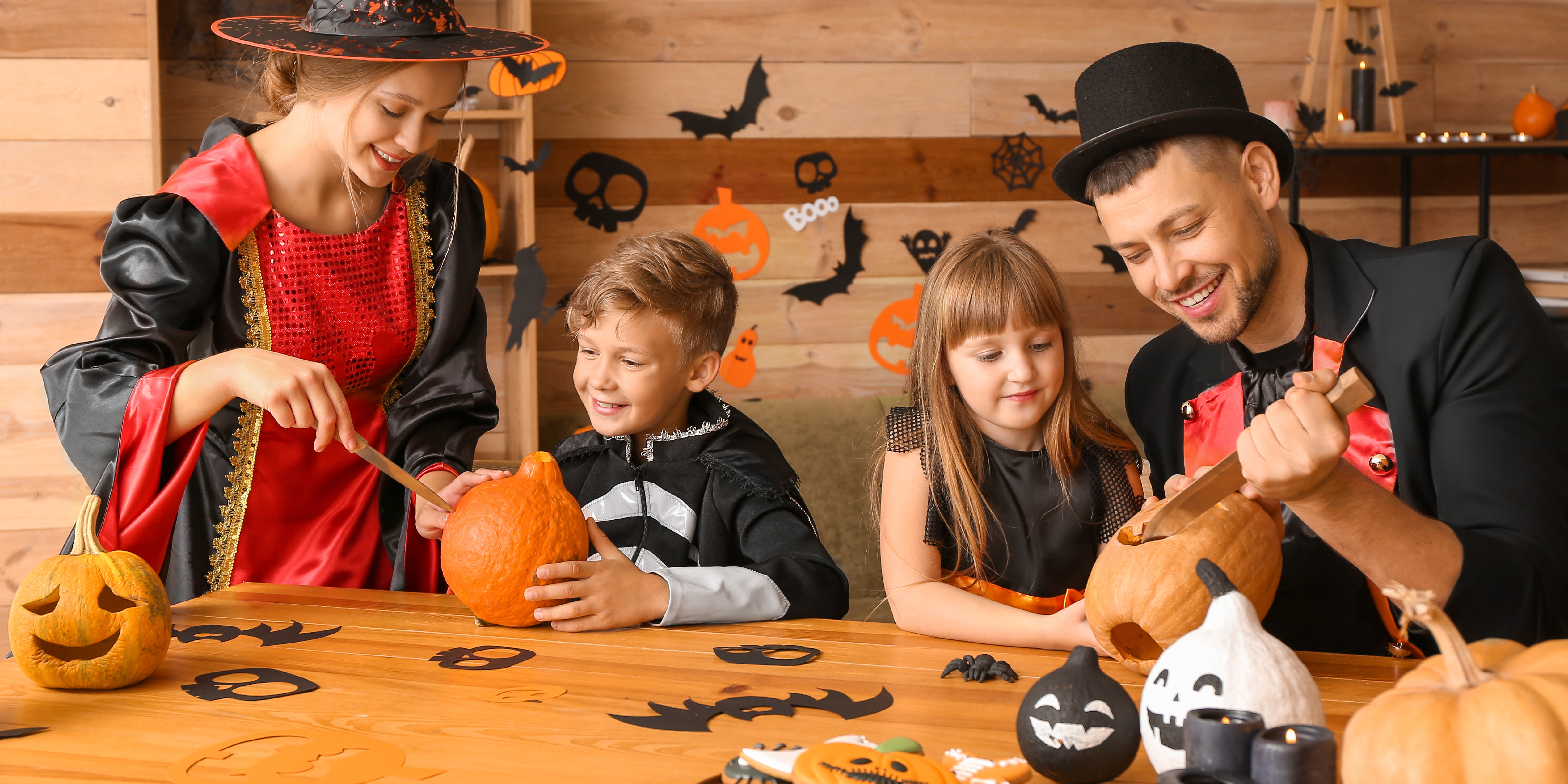 Nothing says fall quite like decorating pumpkins! Whether you pick your own at a pumpkin patch or grab yours from a local market, it's time to gather up your gourds for some spooktacular fun.
Pumpkin carving is a tradition that goes back centuries. One legend tells of a man named Jack who died and was doomed to wander earth for eternity with only a burning coal inside a turnip to light his way. People started carving all kinds of vegetables to use as doorstep lanterns with hopes that these lights would ward off evil spirits. That's also how the name Jack o' lantern came about!
You could take a minimal approach to your fall décor, and place plain pumpkins in and around your home. But, decorating pumpkins is a fun activity that will provide hours of entertainment for your whole family.
The kind of designs you create for your pumpkin carving project are limited only by your imagination! You can stick with the traditional theme of carving a face in the front. Other popular designs include animals like cats, bats, owls, or vampires, ghosts, and witches. Your creation can be spooky or cute, simple or elaborate.
Whatever you choose for your pumpkin designs, these hacks will help up your pumpkin game.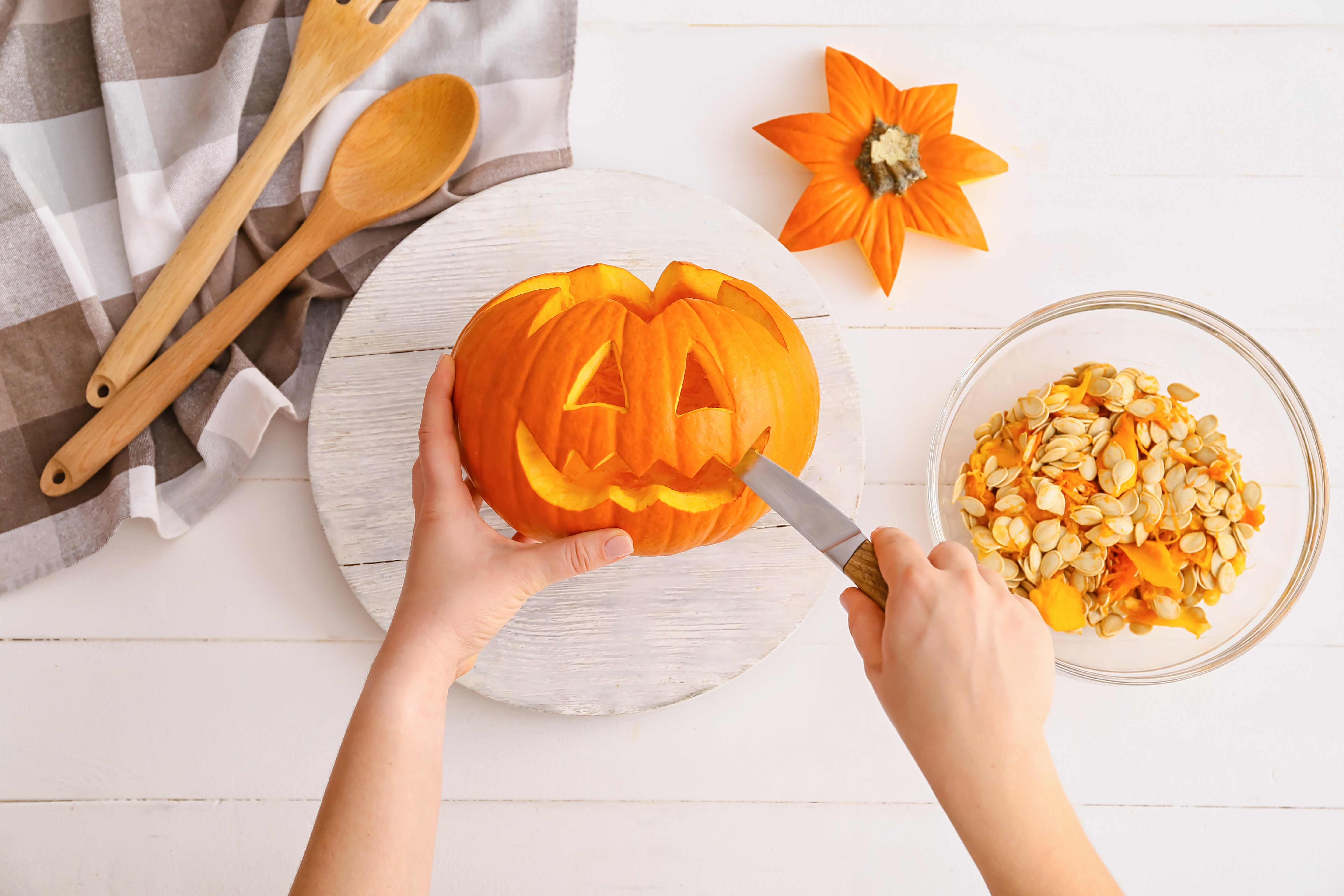 Pick a smooth pumpkin
Pumpkins with heavy ridges, especially heirloom varieties, can be beautiful to look at, but aren't so practical for carving. When you're picking out your pumpkin, find ones with smooth surfaces to make carving a LOT easier.
Print a stencil
You don't have to be an artist to carve a great pumpkin. There are so many stencils available you can download online. Just print your favorite and transfer the picture onto your pumpkin by pricking the outlines with a thumb tack.
Skip the kits
Thumb tacks aren't the only things you already have at home that you can use for your pumpkin carving project. An ice cream scoop is almost always better at scrapping out a pumpkin's insides than the tools offered in any store-bought kit. The same goes for knives. So skip the kit and use what you've got!
Carve a hole in the bottom or the side
Most of us are probably used to carving a circle around a pumpkin's stem so that we can get inside the pumpkin. But, it can still be difficult to scrape everything out with such a small opening. You can enlarge the opening by cutting a key hole shape around the stem and going down the back – no one's going to see it! Or, you can skip cutting around the stem all together and instead cut out the bottom of the pumpkin.

Shave instead of carve
Carving a pumpkin, even a simple design, can be a tricky task. Instead of carving all the way through the flesh of the pumpkin, try shaving the skin instead. The contrast between the dark orange skin and the light orange flesh still stands out, even if your pumpkins aren't lit from the inside. And, shaving allows you to create more complex designs than carving.
Use petroleum jelly to preserve your pumpkins
Carved pumpkins last about as long as Halloween, which is to say, not very long at all! You can keep your pumpkins a bit longer by applying a thin layer of petroleum jelly to any exposed flesh. This will help seal in moisture to help prevent it from drying out, and help create a protective barrier against molds, giving you a bit of extra time to enjoy your pumpkins.
Use electric lights
Candles can add an extra spooky touch to your pumpkins. But they can also be hard to light and can damage the inside of your pumpkins. Using electric lights makes things SO much simpler! You don't even have to buy battery operated lights to stick inside. Just use strands of lights that you're going to put up for Christmas soon, anyway!
Paint instead
You don't have to carve a pumpkin to have fun decorating one. Painting pumpkins can be just as fun as carving. You can also create all sorts of designs that you can't with carving. And of course, no sharp tools means that truly everyone in the family can get in on the fun.
Save those seeds
Don't let your seeds go to waste! Save the seeds that you scooped out for a tasty and healthy snack. They're great to eat on their own, as an addition to salads or trail mix. The best part? You can season them any way you like.
We hope these hacks help your family have a fun Halloween. For more tips to create holiday magic with your family all year long, don't forget to subscribe.